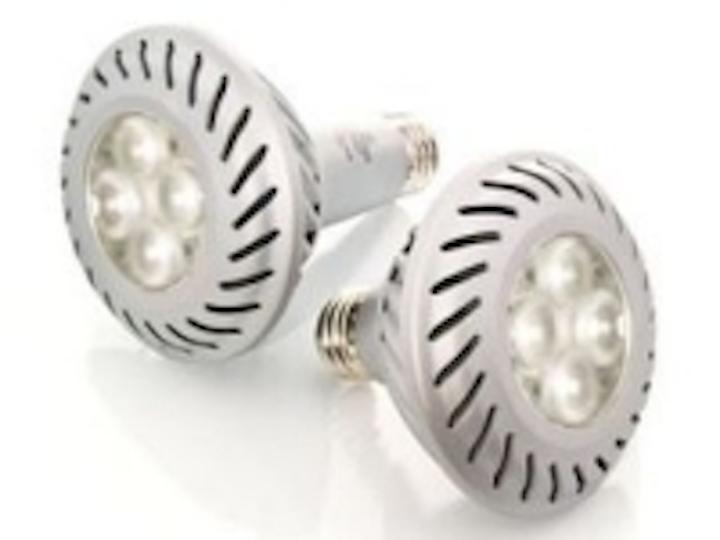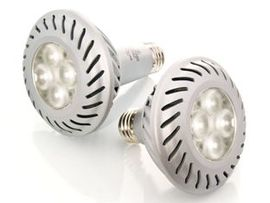 Date Announced: 07 Jul 2009
CLEVELAND - Two new lamps from GE Consumer & Industrial – a 7-watt GE Energy Smart® LED PAR20 lamp and a 10-watt GE Energy Smart® LED PAR30 lamp – enable restaurants, retailers and other commercial customers to make significant strides toward general lighting with white light-emitting diodes (LEDs). These products of ecomaginationSM, available as spots or floods, feature advanced optical control to concentrate the white LED light on the targeted area and effectively diminish wasted extraneous light.
"One noticeable technology achievement is the superior beam. It's a better directed light," says Gus Lanese, manager of growth initiatives, GE Consumer & Industrial. "Some retailer customers have already purchased these LED lamps to do the job of higher wattage, higher lumen output incandescent or halogen lamps. We know the energy and maintenance savings possibilities inherent in LEDs will be a draw for other retailers."
While delivering consistent and crisp halogen-like color (82 color-rendering index) the company's new 10-watt, 3000K GE Energy Smart LED lamp produces 340 lumens and offers up to 80 percent energy savings compared with 45-watt standard incandescent R30 lamps (485 lumens) or 50-watt Halogen PAR30 lamps (630 lumens), so it's a perfect replacement if you can reduce your light levels. Over a 20,000-hour rated life that's up to 10 times longer than standard incandescent or halogen light sources, the new 10-watt LED lamp delivers significant maintenance savings, plus up to $15 per year in energy cost savings (compared with a 45-watt incandescent R30 lamp, assuming 4,500 annual operating hours @ $0.10/kWh). Standard and long neck versions are available.
Just like its 10-watt cousin, the GE 7-watt LED lamp (200 lumens) helps customers excel at cutting energy costs. It reduces energy consumption by 77 percent when compared with standard 30-watt incandescent R20 reflectors (200 lumens) and, if you can reduce your light levels, you can save even more compared with halogen 50-watt PAR20 lamps (570 lumens) over 20,000 hours. The 7-watt GE LED lamps have a 20,000-hour rated life to 70 percent of initial light output, so fewer lamp replacements are needed versus standard halogen or incandescent light sources. It features an 82 CRI and is available in both 2700K and 3000K, attributes that allow it to provide crisp, halogen-like color.
Neither of the new LED lamps contains lead or mercury. Both are RoHS compliant.
GE is one of the world's largest LED systems companies. Its expansive installed base of white LED systems in the United States includes Walmart's refrigerated display case lighting installation, the world's biggest white-LEDs-replacing-fluorescent lighting retrofit in a retail display setting. Globally, GE has sold over 500,000 LED refrigerated display case lights, over 5 million LED traffic signals and over 14 million linear feet of Tetra® LED lighting systems for use in signage and architectural applications. Over 50 percent of GE's lighting research is devoted to LEDs (light-emitting diodes) and OLEDs (organic light emitting diodes).
GE Consumer & Industrial spans the globe as an industry leader in major appliances, lighting and integrated industrial equipment, systems and services. Providing solutions for commercial, industrial and residential use in more than 100 countries, GE Consumer & Industrial uses innovative technologies and ecomaginationSM, a GE initiative to aggressively bring to market new technologies that help customers and consumers meet pressing environmental challenges, to deliver comfort, convenience and electrical protection and control. General Electric (NYSE: GE), imagination at work, sells products under the Monogram®, Profile™, GE®, Hotpoint®, SmartWater™, Reveal® and Energy Smart® consumer brands, and Entellisys®, Tetra®, Vio™ and Immersion® commercial brands.
Contact
GE Consumer and Industrial
E-mail:info@ge.com
Web Site:www.ge.com