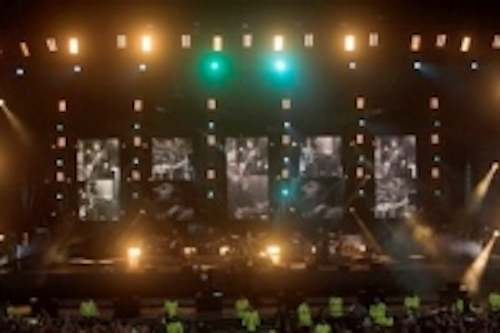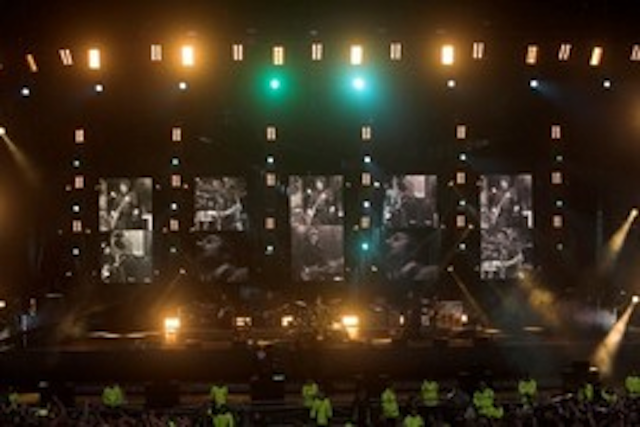 Date Announced: 01 Jul 2009
Over 140 i-Pix BB4 wash lights are featuring on the stadium shows of UK rockers Oasis' current "Dig Out Your Soul" world tour, together with 17 i-Pix BB7s.
This is an increase of nearly 100 BB4 units - the standard touring rig started with 42 along with 7 BB7s - and is currently the record amount of i-Pix fixtures used on a single concert touring show.
Gawler's original basic over-stage rig concept which started the tour in October 2008 utilised 30 BB4s, with 6 units rigged horizontally onto each of 5 steeply raked upstage/downstage 'finger' trusses. These were attached via custom brackets fabricated by lighting suppliers PRG, and are utilised to produce a general stage wash.
When the summer 2009 stadium shows appeared on the itinerary, it was time to maximise the impact and WOW factors, and let people experience a touch of 'large rock show' swagger! So ...... an extra finger truss has been added over the stage, making 6 in total, along with another 6 integral BB4s now rigged in vertical pairs, a nod to the 8 light Molefey format. (Another MiTrix video screen has also been added, making 5, up from the original 4.)
The other 12 BB4s from the original rig are still there - mounted on six 4ft high vertical poles, 3 of which are positioned either side of the stage in boom positions, shooting directly across the band. A further 8 BB4s have been added to the downstage edge, to provide some foot-lighting, the low profile of the BB4 enables the unit to stay concealed in both positions.
The majority of the extra stadium show BB4s are hung in pairs on custom soft ladders, built for PRG and suspended in front of the stage PA wings and delay towers.
A further 7 pairs of BB4s have been added to the front truss. They produce extremely effective audience lighting, reaching far and wide, illuminating the massive crowds that have given Oasis a thunderously enthusiastic reception throughout the tour.
Nine BB7s have been added to the mother grid trusses over-stage for the first time, along with the original 7 arena show BB7s, which are used together to produce a powerful top wash and for between-song looks.
Gawler originally spec'd BB4s because he sought a colour changing wash light offering a nice, even spread of high quality light, not too beamy and that was a less energy-hungry alternative to conventional 4-lite fixtures. He looked at several options before deciding to go with the i-Pix products.
"They are reliable, efficient and make good colours. I also really like the homogeneity of the light sources and the smooth and even output," he states. This feature eliminates the visibility of the individual different coloured LEDs, so they all appear as one unified point-source.
He's also impressed with the good CTO-like tint that can mimic a PAR bulb without the heat and cabling issues, dimmers or consumption of excessive electricity!
Gawler is operating the show on a Hog 3 console, which is also driving (for the stadiums) 2 Catalyst digital media servers (1 for the standard show), running the playback video content and running camera cues on a Barco Encore via MSC and the genius of Richard Turner.
Contact
Louise Stickland Ph: +44 (0)7831 329888 or +44 (0)1865 202679 or i-Pix direct Ph: +44 (0)161 443 4140
E-mail:louise@loosplat.com
Web Site:www.i-pix.uk.com