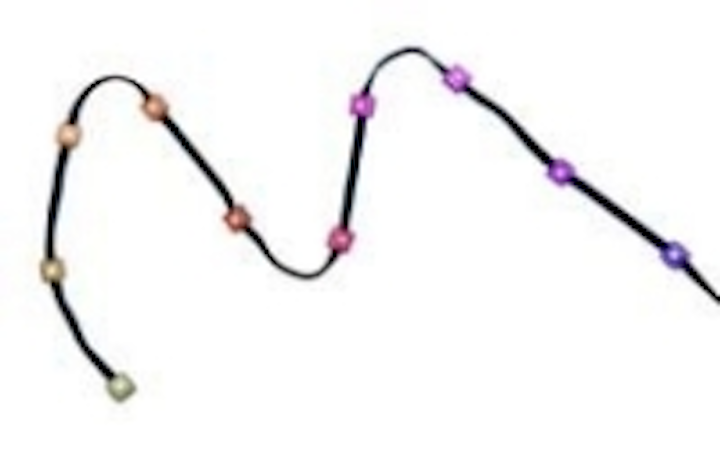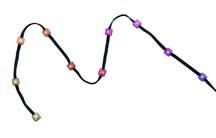 Date Announced: 30 Jul 2009
Bright, flexible LED string provides unlimited options to enhance interior and exterior spaces
With Martin Professional's new FlexDOT S1™, LED video displays break free from the flat, rectangular format. Fully customizable and DMX512 controllable, these bright and lightweight strings of LED pixels allow for the creation of customized video solutions with maximum artistic flexibility and a minimum of effort.
FlexDOT is a perfect solution for integrating LED video technology in stage sets, clubs, retail, even outdoor environments, enabling unique display solutions to be realized without the long lead times or costs associated with a 'from scratch' design.
Pixels on demand
The FlexDOT concept is simple – individually controlled, intelligent, full color pixels mounted on a flexible cable that allows designers/architects to create unique and customized LED video displays. Each pixel (dot) consists of a bright RGB LED driven by its own processor and individually addressable for independent control of color, special effects, and animation. Pixels can be arranged as needed and later mapped to the image using pixelmapping software. FlexDOT can be controlled from any DMX512 source such as Martin's Maxedia™ media server.
Brighter and better
At 2.5 candela per pixel, FlexDOT is twice as bright as competitive products and provides an image quality and level of performance on par with the best conventional LED screens. This flexible, lightweight solution is also efficient and long-lasting and can be arranged into nearly any form to provide designers unlimited options to enhance interior and exterior spaces.
FlexDOT-ibility
Standard pixel spacing is 100 mm or 200 mm with each FlexDOT string comprising 100 pixels. A string of FlexDOTs can in fact extend to 120 pixels, more than twice as many as competitive products. The string can be cut into any desired length or number of pixels. Custom pixel spaced strings are available to order.
Easy to install, set up and drive
FlexDOT is light and requires substantially less supporting hardware than conventional LED display solutions. The flexible cable mounting gives a high degree of creative freedom and an IP66 rating in combination with a wide operating temperature range means that it can be used in virtually any environment, even outdoors.
A range of accessories is available for mounting, driving and optically modifying FlexDOT to perfectly fit any application.
Martin Professional
Founded in 1986 and headquartered in Aarhus, Denmark, Martin Professional is a world leader in the creation of dynamic lighting solutions for the entertainment, architectural, and commercial sectors. Martin lighting solutions are industry standard on top tours and events, grace prestigious theatres, energize nightclubs, and decorate major television studios around the globe. Other important areas of application are indoor and outdoor architecture and commercial applications where Martin products are increasingly being used to transform spaces through dynamic light. Martin also offers a range of advanced lighting controllers and media servers, as well as a complete line of smoke machines as a complement to intelligent lighting. The company operates the industry's most complete and capable distributor network with local partners in nearly 100 countries. For more information please visit www.martin.com
Contact
For more information contact your local Martin distributor or PR Coordinator Larry Beck at Martin Professional at: Telephone: +1 719 686 0793 Fax: +45 87 40 00 10 (DK) / +1 954 858 1811 (US)
E-mail:larry.beck@martin.dk
Web Site:www.martin.com