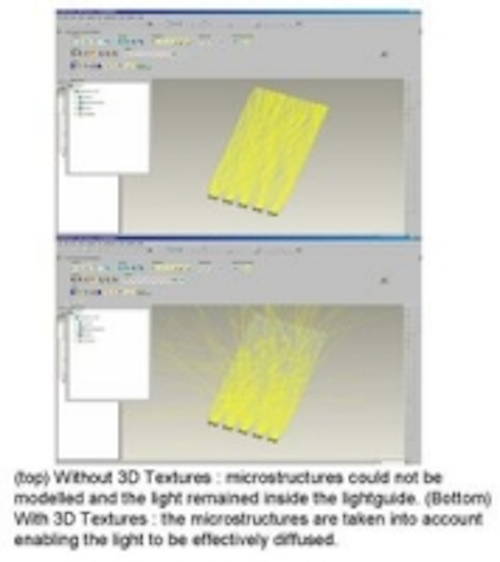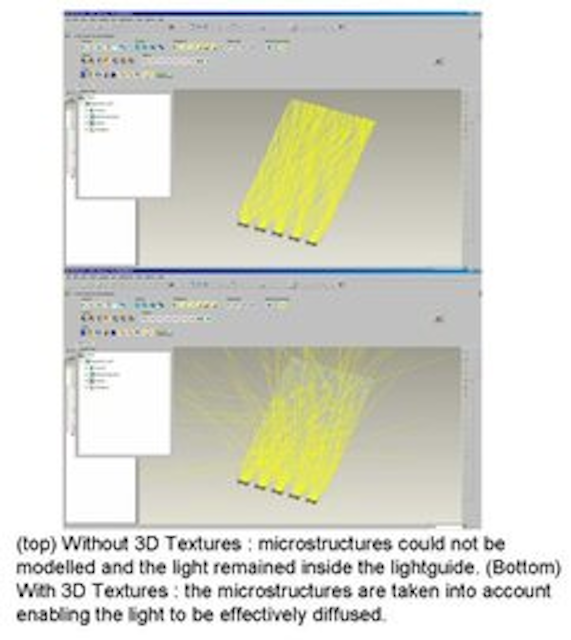 Date Announced: 14 Oct 2009
Toulon, France –- OPTIS announces today that its 3D Textures application is now available in SPEOS for Pro/ENGINEER®, the light simulation software fully integrated in the CAD program Pro/ENGINEER. SPEOS enables engineers and designers to carry out complex, integrated mechanical and optical simulation seamlessly within their CAD environment.
3D Textures from OPTIS offers designers of lighting and backlighting advanced optical design capabilities, enabling them to model even the most complex shape of microstructure onto any possible CAD shape and surface and to mix diverse construction materials.
Until now, modelling optical performance of devices in conventional CAD packages proved either impossible or extremely time-consuming and yet today more than ever, managing light and lit appearance is crucial for designing high performance display systems.
Using the 3D Textures solution from OPTIS, designers and engineers can easily create hundreds of millions of modelled points on surfaces, directly inside Pro/ENGINEER, giving them unparalleled control of how the light behaves. Importantly OPTIS software enables the engineer to take into account human vision and thus simulate how the product will be perceived under any lighting conditions and viewing angle.
SPEOS 3D Textures enables a 3D model to include hundreds of millions of patterns thanks to optimized memory requirement (150Mb needed for 1 million patterns), a rapid loading time and fast simulation time (16 minutes for 4 million patterns). It also offers fully optimized multithreaded and 64bit operation, which other packages cannot match.
This unique 3D Textures function will bring both improved design functionality and time-saving in challenging lighting applications such as modelling backlit displays and light guides. It combines with the SPEOS Color LCD Modeler to offer a unique toolset for the LCD display designer.
"Simulating 3D Textures inside Pro/ENGINEER will enable lighting and LCD designers to optimize light propagation, uniformity and brightness while at the same time reducing the number of light sources. This is a first for such an advanced light management tool inside Pro/ENGINEER, and we see it opening up new design opportunities. The product is already creating a great deal of interest among LCD and light guide manufacturers alike." Pete Moorhouse, VP Sales & Marketing, OPTIS.
OPTIS will present its 3D Textures solution inside Pro/ENGINEER and SPEOS Color LCD Modeler at the upcoming IMID event in Seoul, Korea, 13-16th October, booth# 4121. www.imid.or.kr
About OPTIS:
OPTIS is the world leading software editor for the scientific simulation of light and human vision within a Virtual Reality Environment. Its solutions allow designers, ergonomists and engineers to simulate and optimize lighting performance, product appearance as well as the visibility and legibility of information on Human Machine Interfaces, in a fully-immersive environment.
Since integrating its SPEOS solution in SolidWorks in 2001, CATIA V5 in 2002 and Pro/ENGINEER in 2008, OPTIS is still the only company to provide a light simulation solution fully based on a physical model inside a CAD/CAM software.
OPTIS has delivered more than 5500 licences to 1500 customers in 36 countries worldwide. Users include most of the major automotive, aerospace, electronics, white goods and lighting manufacturers, as well as architects, universities, research laboratories and defence agencies. They use the SPEOS technology to design, simulate and visualise in a Virtual Reality environment, products as diverse as automotive lighting, mobile phone screens and keypads, dashboard and cockpit displays, LCDs, LEDs, luminaires, military detection systems and optics for industrial vision, defense and medical applications.
Contact
OPTIS Press Contact: Angela GREEN Telephone: +33 4940 86697
E-mail:agreen@optis-world.com
Web Site:www.optis-world.com