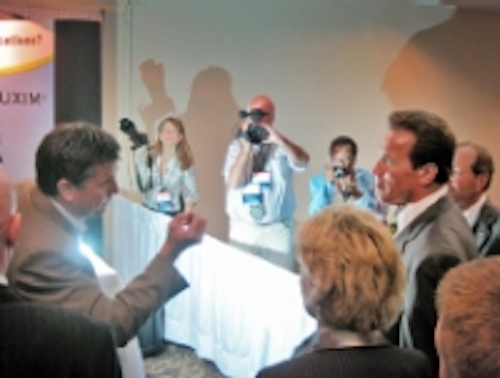 Date Announced: 06 Oct 2009
BEVERLY HILLS, Calif. — At the second annual Governors' Global Climate Summit held here this week, Governor Arnold Schwarzenegger visited LUXIM'S booth to view a demonstration of the company's Light Emitting Plasma™ products.
LUXIM'S vice president of marketing, Randy Reid, told the Governor that Light Emitting Plasma™—with a fixture efficiency of 83 lumens per watt—is a natural fit for high-illumination applications such as parking lots, street lights, big-box retailers and distribution centers. Reid listed the advantages: 50 percent energy savings, 50,000 hours life and exceptional color quality. Furthermore, LUXIM's tic-tac size plasma lamp enables a new generation of compact, environmentally friendly and cost-effective fixtures.
Reid told the Governor that LUXIM's Light Emitting Plasma™ technology complements LED technology, with Light Emitting Plasma™ best suited for high-illuminance applications while LED is better suited for low and medium-illuminance applications.
LUXIM is the world leader in Light Emitting Plasma™ technology, having shipped more than 50,000 products under its LiFi™ brand. These products are used in applications as varied as projection display, medical instruments and entertainment lighting. In each application the technology has brought dramatic improvements in efficiency, life and color quality. LUXIM is now bringing the benefits of Light Emitting Plasma™ technology to the area lighting market with the goal of playing a meaningful role in reducing the planet's energy consumption and abating climate change.
Over fifty companies exhibited at the three-day conference, including industry leaders such as Deco Lighting, the California Lighting Technology Center, Orion Lighting, and Lighting Science Group. The summit drew more than 800 attendees from 19 countries to discuss strategies to cut greenhouse gas emissions.
To learn more about LUXIM or LIFI, please visit www.luxim.com.
Contact
Randy Reid Vic President, Marketing
E-mail:rreid@luxim.com
Web Site:www.luxim.com