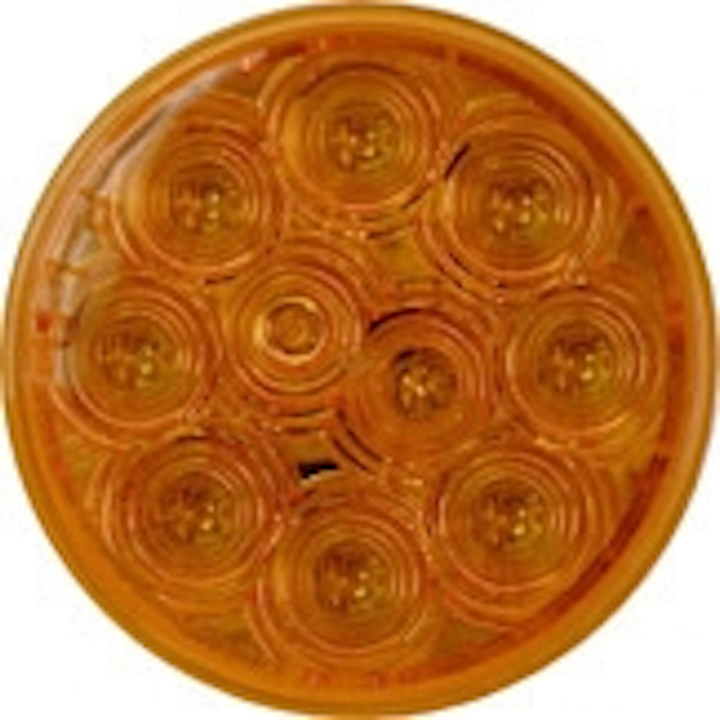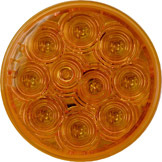 Date Announced: 27 Oct 2009
GRANDVIEW, MO – OEMs and fleet operators will find a lot to like in Peterson's latest additions to its patented line of Piranha® LED Smart Lamps™ –– the advanced warning light technology that combines strobing LEDs and automatic turn signal override functions in one self-contained lamp. The new 10-diode, 4" Round models are SAE J845 class two compliant and DOT approved, and offer the latest in ultra-rugged wiring options plus the extra economy of only ten diodes.
Called the easiest, most efficient way to integrate strobing LED warning lamps into new vehicles and to retrofit existing vehicles, Peterson's unique Smart Lamps™ are designed for full compatibility from model to model. Each self-contained lamp unit has electronic strobe and turn signal functions built in, plus digital "synchro wire" technology that keeps lamps in both dual and quad system installations perfectly synchronized. No cumbersome external flasher or control box is required.
"The beauty of our Smart Lamp system is simplicity," said Mark Assenmacher, Peterson's Director of Marketing. "It's truly an integrated, hassle-free solution for refuse, maintenance and service vehicles –– rugged, more compatible and easier to install than any other strobe system on the market. And nobody can beat our new 10-diode models for value."
Like all Smart Lamps™, the new 10-diode models feature a triple-flash strobe function that can be manually activated or configured for automatic strobing when the vehicle is shifted into reverse. Activating the turn signal automatically overrides the alternating strobe function.
The 10-diode models are available in two series. The 4344 features an AMP-compatible main port plus hardwired Packard hardshell connector for sync wire connection. The 8344 accepts AMP SuperSeal 1.5 connectors for all functions. Both models fit standard 4" mounting grommets, and their 9-32 volt operating range is compatible with 12- and 24-volt systems.
"Peterson is pleased to offer customers a 10-diode option in our Smart Lamp family," Assenmacher said. "Meanwhile we'll continue to offer the extra brilliance of our original 36-diode rounds and 22-diode ovals."
Peterson Manufacturing Company is a world-leading innovator in the production of a complete line of vehicle safety lighting, mirrors, reflectors, antennas and related products. As an ISO 9001:2008 certified company, Peterson Manufacturing is a key subsidiary of Peterson Corporation, 12 highly specialized companies and over 4,000 people working in global transportation related industries.
Contact
Mark Assenmacher, Dir. of Marketing Peterson Manufacturing 4200 East 135th Street Grandview, MO 64030 Phone: 816-765-2000 Fax: 816-761-6693
E-mail:massenmacher@pmlights.com
Web Site:www.pmlights.com