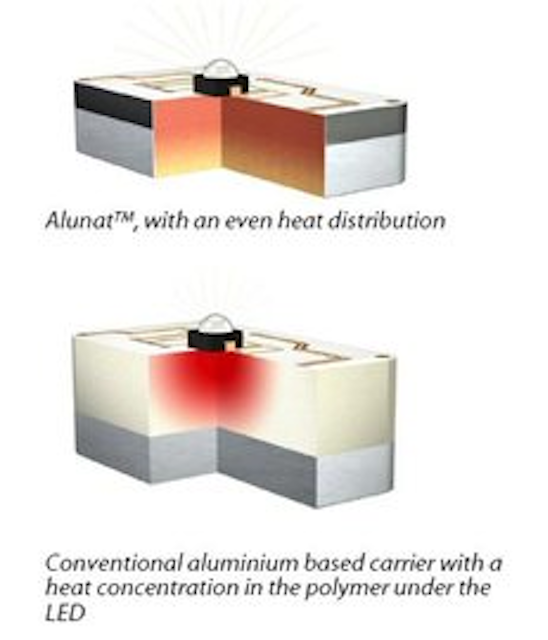 Date Announced: 02 Oct 2009
Aluwave has specialised in LED-module design and supply and has long working experience with Luxeon type LEDs.
The company has in many cases times performed product redesign/modernization projects driven either by new product requirements or that LEDs has been discontinued.
Luxeon K2 and V A redesign service away from obsolete technology includes the making of a new LED-module that among other things can include.
 Overview of functionality
 Suggestions for possible performance improvements
 Electrical and optical redesign
 New module delivery
The new module is of course verified for optical, thermal and electrical requirements and with optional service level agreements you are guaranteed to always have the latest technology.
Aluwave's family of materials for printed circuit board products - AlunatTM – is developed to solve the heat problems of modern electronics. It is based on a ceramic, instead of a polymer dielectric as illustrated.
AlunatTM is highly suitable for high power LED applications as the heat is very efficiently transported away from the component. This allows higher light output, lower power consumption or longer lifetime.
Aluwave AB is an innovative Swedish company that specialises in electronics cooling technology and provides, as a complement to AlunatTM, customised light engines and expertise in electrical, thermal and optical design. Aluwave has experiences in automotive, architectural, design, decoration, sport, utility and work lighting applications.
Contact
Aluwave AB Argongatan 28, 431 53 Mölndal, Sweden
E-mail:info@aluwave.com
Web Site:www.aluwave.com