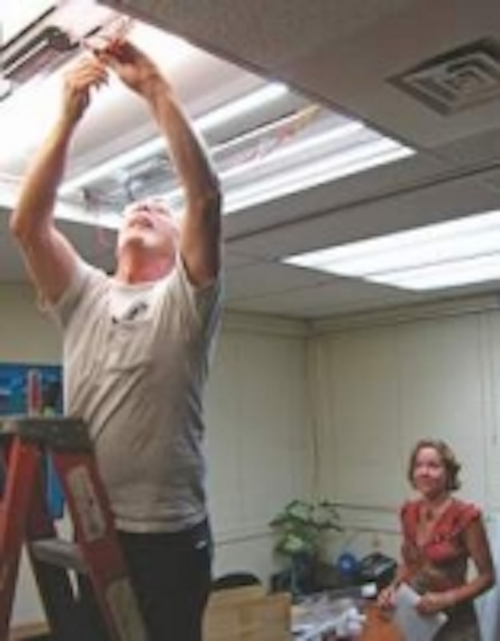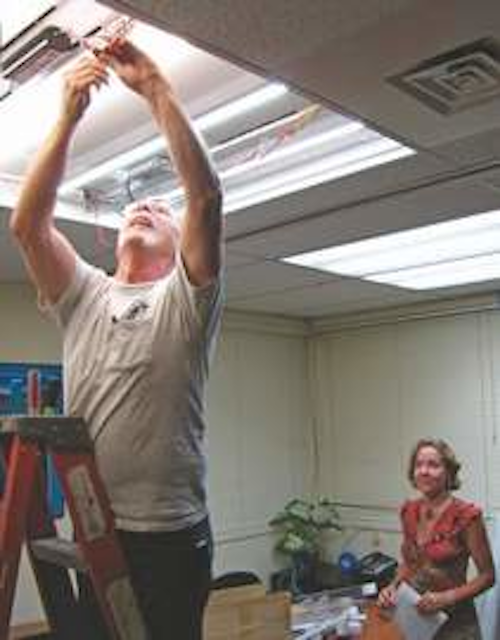 Date Announced: 10 Oct 2009
TRUCKEE, Calif. — Tahoe Truckee Unified School District, the Truckee Donner Public Utility District and local lighting guru David Mattocks are taking on the next green technology — LEDs.
The partnership has started small, installing the super-efficient lighting in a conference room at the district offices, the entry way at Alder Creek Middle School, and soon at the community Sierra Mountain Community Education Center gym.
"The school district has a huge amount of lighting, and it's a big part of our energy costs," said Anna Klovstad, project manager with the school district.
And when Klovstad came to Scott Terrell, of the public utility district, Terrell said he thought of Mattocks, president of Green Pro Systems, who has been developing LED technology.
"This is the next generation, this is our future," Mattocks said.
His LED tubes are the first to beat standard T8s (the fluorescent tube lights common in offices and schools) in light output while still being significantly more efficient and long-lasting, Mattocks said.
"When David came to me and said 'I have a four-foot LED tube,' I said 'yeah right,'" Terrell said, echoing skepticism throughout the industry toward LED technology.
But after seeing the lights first-hand, Terrell said the utility district teamed up with Mattocks and the school — the utility district providing the funding, Mattocks providing the technology and the school district providing the labor for the retrofits.
At the Alder Creek Middle School entrance, the new lighting stands to save the district $88,784.41 in lighting costs over the 60,000-hour life span of the LEDs, along with 44,380 pounds of CO2 emissions from energy consumed, according to Mattocks' calculations.
And if the school district continues to replace lights throughout the schools with LEDs, they could have another side effect — higher test scores, Klovstad said.
Studies have shown that lights that better mimic natural lighting increase productivity, Klovstad said.
"A school in Carson City (Nev.) did a retrofit, and test scores went up 26 percent," Mattocks said.
Other energy providers, like NV Energy, have started to pay attention to what the school district, utility district and Mattocks are doing with the LEDs, Terrell said.
"This project is being watched," Terrell said.
Klovstad said the district will continue to look for places replacing lights with LEDs make sense, and may look to emergency lighting next, because they stay on all the time.
The district will have to move slowly as they find funding, she said, and will probably work in the Truckee area rather than the lakeside because of the partnership the Truckee Donner Public Utility District can provide.
About LEDs
LEDs, or light emitting diodes, are generally small lights, known as light engines rather than light bulbs, Mattocks said.
They are more energy efficient and have a longer lifespan than other light sources, he said, but because technology is still changing, much depends on the quality of the semiconductor chip and other parts.
"LEDs produce a tremendous amount of light using very little energy. In some cases, we are reducing lighting costs by over 90 percent," Mattocks said
Unlike the popular compact fluorescent light bulbs, which provide greater efficiency and lifespan than a traditional incandescent bulb, LEDs have no hazardous materials to be disposed of and most of the materials can be recycled, Mattocks said.
They're a lot more difficult to break too, with no moving parts or thin glass bulbs, he said. To learn more, go to www.GreenProSystems.com.
Contact
David Mattocks President and Kellogg Foundation Fellow GreenPro Systems, PO Box 1505 11775 Oslo Drive, Truckee, CA 96161 Lab/Office: 530.550.8030 Cell: 530.386.7025
E-mail:dmattocks@Greenprosystems.com
Web Site:www.greenprosystems.com