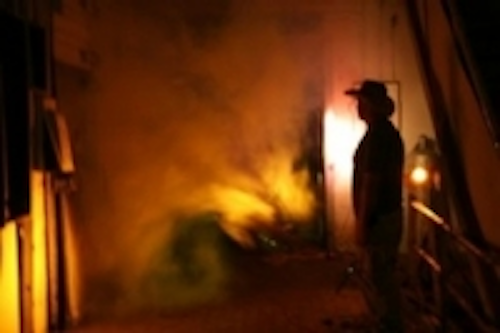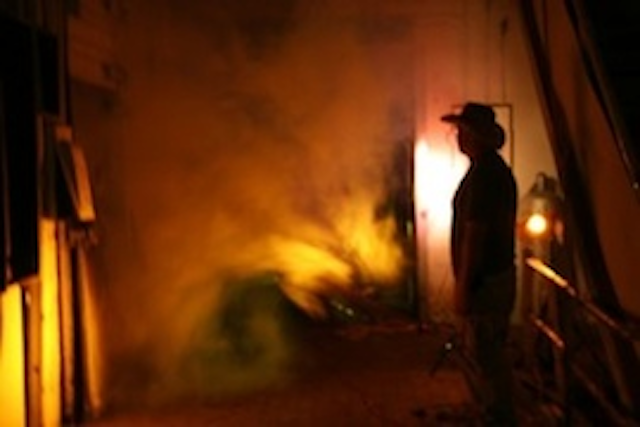 Date Announced: 08 Dec 2009
Woodland Park, Co -– CinemaLED, LLC introduced the industry's first all solid state lighting kit designed for remote location interviews and generic three-point lighting setups. The LED Interview Kit is comprised of three UL listed 7.2 watt LED flood lamps that feature Cree Xlamps and three UL listed specially designed lamp sockets that are compatible with any 5/8" spud mount light stand. Additional accessories included with the kit are a pair of umbrella diffusers that work with the included lamp sockets and an assortment of 5x5 gels for augmenting the light output.
The total wattage of the standard kit amounts to less than 30-watts, making it ideally suited for on location video shoots where limited AC power is available. The entire interview, including camera and monitor power, can be run from a standard 15amp household circuit. There is no need for hauling or renting a genset or dragging heavy or robust extension cords to move your shoot to a remote location. The environmentally friendly nature of LEDs allows for a product that is 100% recyclable and contains no harmful chemicals such as lead, mercury or cadmium.
A secondary benefit over traditional tungsten or HMI light sources is extremely low operating temperatures. Your talent, as well as your grip and electrical professionals, will appreciate the lower studio/location temperatures. Lights are extremely robust and are designed to survive falls of eight feet while fully powered and continue normal operation. (Don't try that with a 200-watt Fresnel!)
"We shot a corporate video entirely using Cinema Led products, we shot this in an old ICE house with limited power and ran everything off of one 15 amp circuit," reported Michael Dalton, President of Watered Down Productions. "The Guys over at Cinema LED really delivered, there products not only look good they are the most durable set of video lights I have ever used…at one point during our shoot the producer tripped over a cord and the light fell from around 6 feet and kept on working like a charm, that just won't happen with any other lighting system out there. With little to know heat on the talent you don't have to worry about taking long breaks to cool the talent off. I will never shoot another interview with out Cinema Led products...I give them five stars..." Dalton concluded.
The LED Interview Kit comes complete with two 30-degree medium spot lamps and one 90-degree flood. Additional configurations include a four and five lamp kits, a complete kit that includes stands, barn-doors and 2.5-watt accent lamp as well as custom color temperatures and production company branded transport cases. Visit www.cinemled.com for more information regarding options and prices.
About CinemaLED, LLC.
CinemaLED is an American company formed to meet the needs of the professional film and video production company with low input power, high light output Solid State Lamps. All CinemaLED products are designed in the United States of America with the entry-level products manufactured in China using Cree LEDs and the professional level products being manufactured in the United States. The CinemaLED team has over 20 years experience working with SSL light sources, and understands the technology and demands of today's production requirements.
Contact
CinemaLED, LLC 1021 Mateo Camino Woodland Park, CO 80863 719-687-9814
E-mail:anthony@cinemaled.com
Web Site:www.cinemaled.com