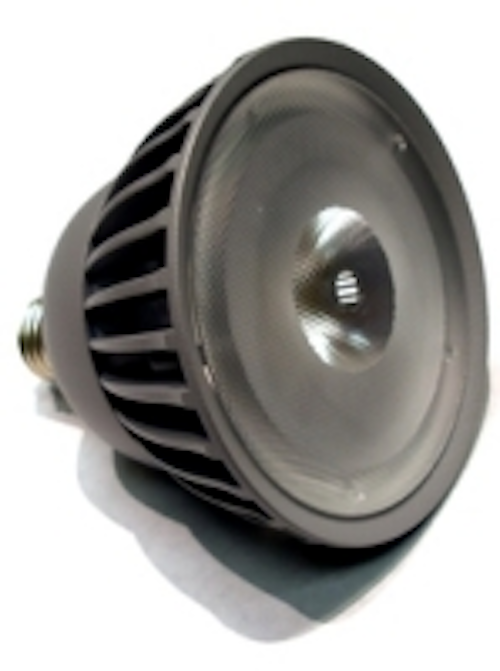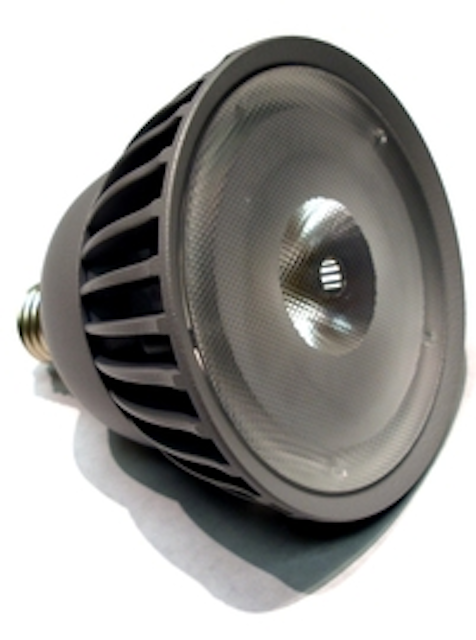 Date Announced: 09 Dec 2009
-- LuxPAR PAR38 Delivers Lux on Target™ and Industry's Widest Dimming Range for Commercial and Retail Downlighting Applications
Santa Clara, CA –- LedEngin, Inc., a leading innovator in high performance LED lighting technology for commercial buildings, LEED construction, restaurants, casinos and museums, today announced the launch of its LuxPAR family of LED lighting products and immediate availability of the first product, PAR38. LedEngin will also offer PAR20 and PAR30 lamps worldwide in Q1 2010. The company's PAR38 lamp represents the industry's first truly dimmable LED lamp with smooth dimming to 1% light levels, and features LedEngin proprietary LEDs and optical designs that deliver highest lux, superior light quality and longevity for measurable energy reduction and cost savings as compared with halogen and metal halide lamps. LuxPAR products will be offered in multiple color temperatures and spot, narrow flood and flood beam distributions.
"As stated in our June 2009 Strategies Unlimited report LED Replacement Lamps Market Analysis and Forecast , reflector (PAR and R) lamps are the fastest-growing segment of LED lamps, with a projected growth rate of nearly 200% between 2010 and 2013," said Robert V. Steele, principal, Strategies Unlimited. "Businesses currently using 75 and 90 watt halogen and metal halide lamps – the most widely-used lamps in commercial buildings – will increasingly relamp to LED PAR and R lamps, for significant cost and carbon footprint reduction, while achieving better light quality and vastly longer lamp life."
"LedEngin's new LuxPAR family of lamps satisfies pent-up market demand for LED PAR lamps that deliver Lux on Target with superior levels of light quality, visual comfort, color rendering and energy efficiency," said David Tahmassebi, CEO, LedEngin, Inc. "With highest brightness within the beam angle, full range of dimming, multiple color temperature options, and three beam distributions, LuxPAR PAR38 is the first true replacement for dimmable halogen and metal halide lamps."
"After testing LedEngin's new PAR38 lamps we are recommending that our hotel, large retail and U.S. chain restaurant customers immediately replace their halogen and metal halide PAR lamps with LuxPAR PAR38 lamps to achieve the light and color uniformity, glare reduction and dimming capability their businesses demand," said Chris Roemlein, president, Spectrum Lighting.
Availability, Comparison, Warranty
LedEngin PAR38 lamps are available immediately; LuxPAR20 and PAR30 lamps will be available worldwide Q1 2010 through LedEngin and its distributors.
LedEngin LuxPAR38 lamps deliver:
• Center Beam Candle Power (CBCP) of 4,500 cd in narrow flood beam option and 6750 cd in spot beam. For additional beam and color options visit www.luxpar.net
• Superior light intensity and color uniformity throughout beam.
• 80% energy reduction as compared with 75 and 90W halogen lamps.
• Life expectancy: 25,000 – 35,000 hours; ROI per 75W replacement in 1 year.
• EnergyStar® compliant at 45 lumens/W.
• Minimal glare for greater visual comfort in commercial and retail settings; zero UV light for preservation/museum settings.
• Three year limited warranty.
About LedEngin, Inc. Technology
LedEngin has developed ultra-bright, ultra-compact LED emitters and solid-state light source modules based on the company's patented state-of-the-art LED packaging technology. The company has extensive technical expertise in thermal management, stress management, optical design, materials compatibility and automated manufacturing processes. LedEngin's emitters have achieved industry-leading lumens per area with up to 10X advantage over competing solutions. As a result, LedEngin emitters are bright, compact, thermally efficient, and especially suited for applications requiring maximum light output in limited system space. LedEngin's emitters and lighting modules are mercury and lead-free, and RoHS compliant.
About LedEngin, Inc.
LedEngin, Inc. is a California-based solid-state lighting company specializing in ultra-bright, ultra-compact LEDs capable of emitting 2,000+ lumens, delivering extreme flux density and industry-leading reliability. Commercially available LED products range from 3W to 40W in white, direct colors, RGB, RGBA, Far Red, Deep Red, Dental Blue and UV. The company's family of LED replacement lamps and lighting modules provide superior quality light in directional applications equivalent to 35W to 90W halogen lamps. LedEngin also develops LED custom solutions and provides expert application support on optical, electrical and thermal management. Products are sold directly and through select distributors.
Contact
Media contact: Jeanine Lombard Marketing Specialist, LedEngin, Inc. jlombard@ledengin.com (408) 492-0620 x112 Sales contact: Quata Ocano Manager, Product Marketing LedEngin, Inc. Quata@ledengin.com (408) 492-0620 x115
E-mail:jlombard@ledengin.com
Web Site:www.ledengin.com