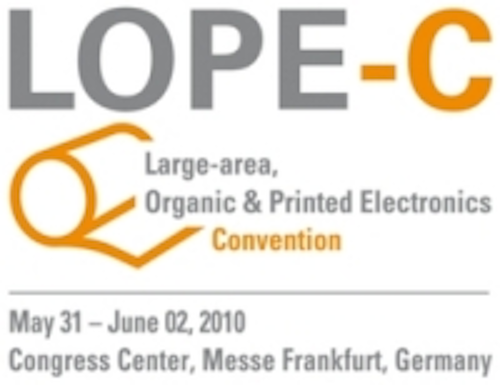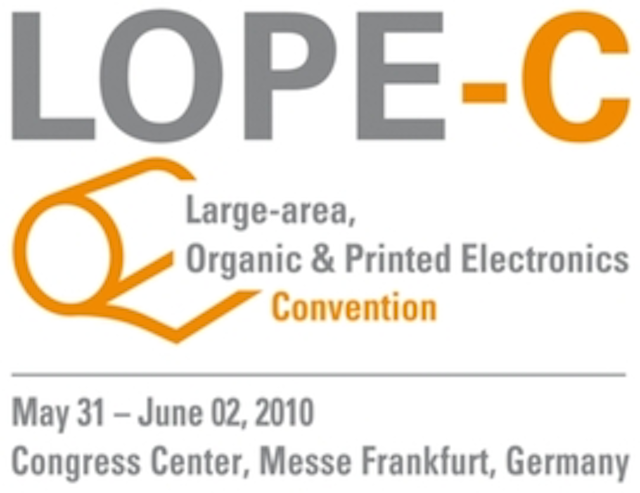 Date Announced: 02 Dec 2009
May 31 – June 2, 2010 Congress Center Messe Frankfurt Germany
LOPE-C is the official annual conference and exhibition of the Organic Electronics Association (OE-A). It is the largest and most comprehensive annual convention worldwide, dedicated to rapid progress in the field of organic and printed electronics.
The overwhelming success of LOPE-C 2009 is reflected in the positive feedback from its 50 highly satisfied international exhibitors and more than 600 attendees. The LOPE-C 2009 conference featured more than 120 business and technical presentations by top-level researchers and leaders from industry and academia.
Join more than 800 attendees and 75+ exhibitors
at LOPE-C 2010!
LOPE-C is set to figure as the most complete overview of the latest technological developments and a showcase of the rapidly evolving manufacturing capacity for organic and printed electronics.
LOPE-C covers the entire industrial value chain – from academic research to R&D, to production, to commercialization, to end-user cultivation.
LOPE-C 2010 strives to be the central meeting place of the global organic and printed electronics industry.
Topics:
 Devices: OTFTs, OLEDs, EL, sensors, batteries, memories, etc.,
 Materials: organic and inorganic, carbon and nano materials, semiconductors, conductors, dielectrics, substrates
 Processes: printing and other large-area mass patterning techniques, etc.
 Equipment: printing, vacuum deposition, patterning, coating, test & measurement, assembly and others
 Production: roll-to-roll and in-line processes
 Applications: flexible and rollable displays, lighting, photovoltaics, RFID, consumer electronics, sensors, smart objects and textiles, etc.
 Services: R&D, prototyping, manufacturing, venture and equity capitalization, etc.
 End users: issues of packaging and logistics, consumer electronics, transportation, brand management, pharmaceutical and medical applications, etc.
LOPE-C 2010 attendee and exhibitor target groups:
 Corporate and Policy Management
 Business and Product Development
 Financing and Venture Capitalization
 Corporate Research and Development
 Academic Research and Applied Sciences
Contact
Messe Frankfurt Ausstellungen GmbH Barbara Kälberer, Project Manager Taunusstr. 7A 65183 Wiesbaden, Germany Phone: +49 (0) 611 9 51 66-18
E-mail:barbara.kaelberer@mfa.messefrankfurt.com
Web Site:www.lope-c.com