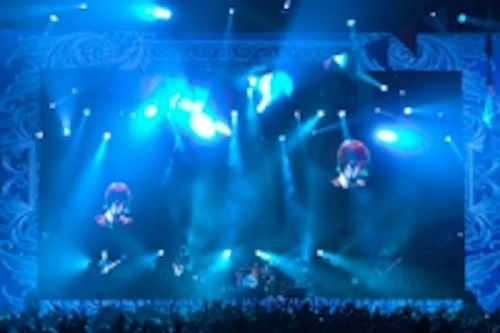 Date Announced: 21 Dec 2009
XL Video UK enjoyed a really busy end to 2009, and here are some of the edited highlights ......
Muse
For Muse's world tour, XL UK supplied full video production including 6 cameras, PPU, Stealth and PIXLED F-30 screens and a crew of 8. Tom Kirk was the video director and he also produced much of the playback footage. XL's project manager Des Fallon has worked with the band for many years and comments that it was great to be working again with production manager Chris Vaughan, Tom Kirk and lighting designer Oli Metcalfe.
Kasabian
A full video touring production was delivered to tour manager Rick Smith, who had initially presented the band with some video and visual ideas and options, and then collaborated with XL's Des Fallon to spec the kit. They built two 2.5 metre diameter Barco O-Lite circles that were flown over the stage. They also constructed a PIXLED F-11 frame which encased the band onstage, partly flown and partly ground supported, and side projection screens fed by Barco 20K machines. XL also supplied a 3 camera PPU and Catalyst media server.
Lily Allen
The XL team worked closely with production manager Paul "Spooner" Haywood to supply a compact touring system package for this UK tour, in which live pictures were relayed to 3 upstage MiTrix screens, 24 tiles high and 10 wide. Video director was Toby Vogel.
Arctic Monkeys
Here XL's Des Fallon enjoyed the great pleasure of working with production manager Peter Van Der Veld along with LD and video designer Andi Watson. XL supplied 2x LED IMAG screens left and right of stage, configured in columns, complete with a camera and Catalyst rig, which was controlled by Watson from his lighting console. There were no moving lights on the show, so video was a key element of movement and dynamics, and the positioning of the screens was crucial to the look of the show.
Simple Minds
Chris Hilson was the video director, and XL supplied left and right IMAG screens, projection and a camera package, with side screens fed by Barco 20K Projectors. XL once again enjoyed working with tour manager Zop and production manager Derek McVay on this tour.
Massive Attack
Massive Attack's fabulously political 2009 tour completed its latest UK and European section, with XL supplying a large quantity of Barco O-lite tiles in custom frames that formed a dramatic upstage video and information wall. Project Manager Des Fallon has been working with the band since last year, alongside production manager Dave Lawrence, tour manager James Basely and LD Robin Haddow. Icarus Wilson-Wright operated the video content using XL's D3 system.
The Royal Variety Performance:
XL Video were proud to be involved in this year's ITV Royal Variety performance, staged at the historic Winter Gardens in Blackpool. They provided an 11.7m x 6.7m PIXLED F-11 screen as the main backdrop to the show, with an additional 3.5m x 2.5m Barco NX6 Screen for comedian Paddy McGuiness's stand up routine. Due to the sheer size of the screen and the resolution required, the PIXLED F-11 was the only solution for the job and both set designer Peter Bingeman and the ITV production management were really impressed with it, complimenting the speed at which it was installed and the excellent picture quality.
Jingle Bell Ball
XL Video provided full video production and record facilities through Blink TV for the 2009 Capital Radio Jingle Bell Ball.
Central to the stage rig were two large LED screens, each measuring 15m wide by 7.2m high. Using a total of 2,886 Barco MiTrix tiles. The screens were placed upstage centre of each stage and provided an impressive canvas for a total of 26 artists performing over 2 nights.
XL also supplied a 6 camera PPU, track and dolly, ISO/TX record, playback facilities and IMAG projection flown either side of the stage.
Contact
For more press info on XL Video UK please contact Louise Stickland on +44 (0)1865 202679 or +44 (0)7831 329888 or Email 'louise@loosplat.com'. To contact XL Video UK direct, call +44 (0)1442 849400 or check www.xlvideo.tv
E-mail:louise@loosplat.com
Web Site:www.xlvideo.tv