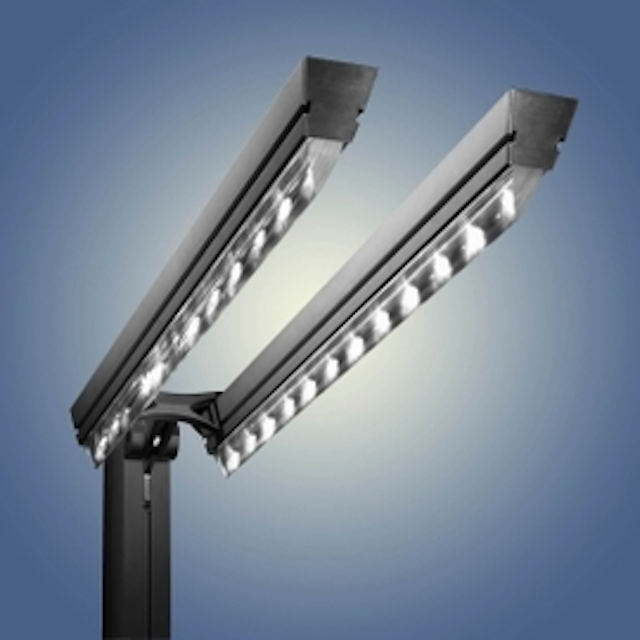 Date Announced: 09 Dec 2009
The Millennio LED pole-mounted luminaire for illumination of pedestrian and bicycle pathways was designed by architect Karsten Winkels of Bauwerkstadt, Germany, and manufactured by HessAmerica, a subsidiary of Hess AG of Germany.
Millennio is designed to illuminate long and narrow pedestrian areas such as sidewalks and bicycle paths. The luminaire has been updated with the latest high-power LED technology, dramatically reducing power consumption while maintaining light levels of previous generations. It is suitable for use on public and private pathways, parks, and other pedestrian-oriented sites; wherever an environmentally sensitive approach to outdoor pedestrian-level lighting includes low power consumption and long lamp life.
The original architectural design of the luminaire and pole is consistent with Hess signature styling. It follows Minimalist design principles, made possible by compact LEDs in an innovative linear array, somewhat reminiscent of a tuning fork. The luminaire consists of two parallel slender light elements, each housing twelve LEDs. The high-output LEDs work in concert with the precision-engineered linear teardrop lens to produce a long and narrow distribution pattern especially suited for pathway-type applications. Luminaire and pole are extruded aluminum with a natural anodized finish conveying its advanced design and technology. Power consumption is a mere 32 watts.
Housing and pole for the Millennio are extruded aluminum with a natural anodized finish. Lenses are extruded acrylic which are milled to shape then polished to optical clarity. High-output white LEDs have a rated life of 50,000 hours. Vertical T-slots are extruded into the rectangular aluminum pole for an integral mounting of the luminaire, with linear shadow lines.
Literature and specifications for Millennio, or other original HessAmerica high-performance, European-design lighting products, are available by contacting authorized HessAmerica professional lighting sales representatives nationwide or HessAmerica directly.
Contact
HessAmerica P.O. Box 28 Gaffney, South Carolina 29342 (864) 487-3535
E-mail:info@hessamerica.com
Web Site:www.hessamerica.com