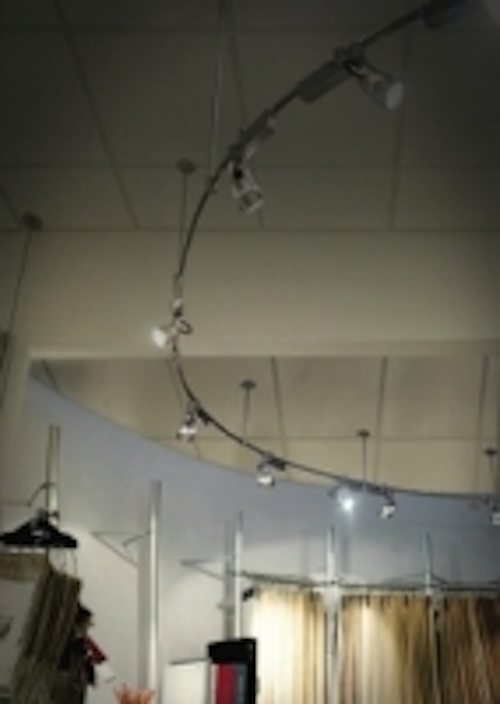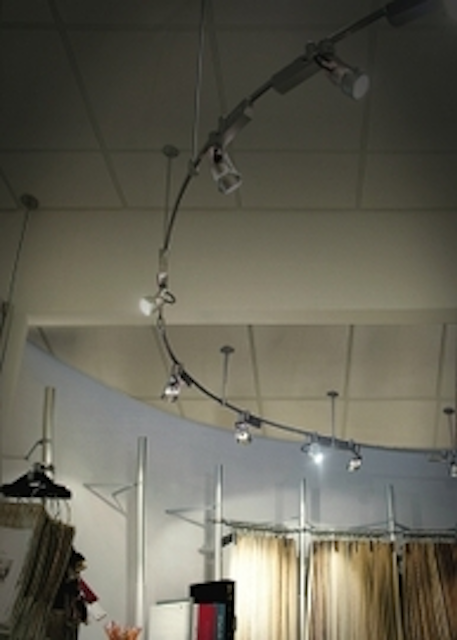 Date Announced: 07 Dec 2009
GARDEN CITY, NEW YORK -– Combining sales and marketing efforts for its popular line voltage rail systems, WAC Lighting has consolidated the FLEXRAIL1™, a 120-volt monorail system, and the FLEXRAIL2™, a two-circuit line voltage rail system, under one umbrella. WAC Lighting is a leading manufacturer and designer of track, recessed, undercabinet, monorail and decorative lighting. WAC creates the FLEXRAIL1™ and FLEXRAIL2™ in its family owned, ISO 9001-certified manufacturing campus with in-house UL approved testing labs and zero landfill status. A five-year warranty assures long-lasting performance.
WAC FLEXRAIL1™ and FLEXRAIL2™ are designed and engineered for the most demanding residential, retail and commercial applications where flexibility, high performance and superior aesthetics are required. Both negotiate curves on ceilings and create eye-catching three-dimensional configurations while using a complete palette of lighting tools, including line and low voltage spots, floods, wall washers and pendants, compact fluorescent wall washers, and HID accent lights. Hundreds of stunning Quick Connect™ elements, including LED fixtures, are also showcased on the systems. Quick Connect™ fixtures make inter-system compatibility a snap by inserting the metal fitting into the adapter and hand tightening the threaded collar.
FLEXRAIL1™ is designed with a slender profile that bends easily in the field, can be field cut, joined and independently powered to create systems of various sizes and looks. FLEXRAIL1™ offers robust construction and insulated circuitry to ensure reliable and safe performance. Thoughtfully engineered, FLEXRAIL1 is favored by electrical contractors for its ease of installation and dependability. Although hand-bendable in the field for smaller installations, a bending tool is also available to expedite installations and make exacting curves.
FLEXRAIL2 features a robustly constructed rail that can be curved in the field by hand or with bending tools. It can also be assembled using pre-curved sections. Well suited for commercial applications that require a multitude of fixtures and high volume of light, FLEXRAIL2 is engineered with two circuits, each is rated at 2400 watts and can be used independently -- providing energy-efficient ambient and task lighting with one while delivering high intensity accent lighting on the other.
Both FLEXRAIL1 and FLEXRAIL2 offer variety of mounting options that will transform challenging ceilings into dramatic interiors. All 120-volt mechanical connections are made within connectors that also serve as a standoff for a fluid uninterrupted profile on standard and vaulted ceilings.
Sustainable lamping options are offered including energy efficient compact fluorescent, HID and low voltage xenon and halogen light sources.
The rails are available in handsome Dark Bronze and Platinum finishes.
About WAC Lighting
WAC Lighting has developed a stellar reputation for high quality decorative and task lighting lines backed by an extraordinary level of service, an unprecedented shipping record, and a Five Year Product Warranty.
This year WAC Lighting has received the 2009 New York Minority Enterprise Development Supplier of the Year Award, as well as TED Magazine's "Best of the Best" Marketing Award for the INVISILED™ LED Literature/Selling Tools. WAC President Shelley Wang has recently received Residential Lighting Magazine/ALA Industry Leadership Award.
To reflect Green energy saving strategies, social progress and community involvement, WAC has recently changed its logo and tagline to "Responsible Lighting." Helping to lead the industry's sustainability charge, the firm has contributed to social progress with responsible manufacturing practices and energy saving technology. The firm employs stringent sourcing, water recycling, lead-free and zero-landfill capabilities in our wholly owned, Clean ISO 9001-certified manufacturing campus. Sustainable CFL and LED lighting products have been added to the extensive line with the most energy efficient technology available.
Innovative and integrated systems technologies are hallmarks of the WAC Lighting product line, which offers many recent introductions including:
* InvisiLED™ tape light constant color and color changing systems featuring energy-saving display and accent lighting solutions using the latest LED technology.
* Energy Efficient Pendants integrating Art Glass with compact fluorescent technology.
* New Brushed Nickel and Bronze Track Fixtures.
The firm retains its corporate headquarters and east coast distribution center in Garden City, NY, a west coast distribution center and offices in City of Industry, Calif., and a showroom in Dallas. Nearly 90% of WAC Lighting products are fabricated, including components, at our state-of-the-art manufacturing campus in China.
WAC Lighting is headquartered at 615 South Street, Garden City, New York 11530. The phone is 1.800.526.2588, and the fax is 1.800.526.2585. The email address is info@waclighting.com
and the website is www.waclighting.com



Contact
WAC Lighting 615 South Street Garden City, New York 11530 1-800-526-2588

E-mail:info@waclighting.com

Web Site:www.waclighting.com