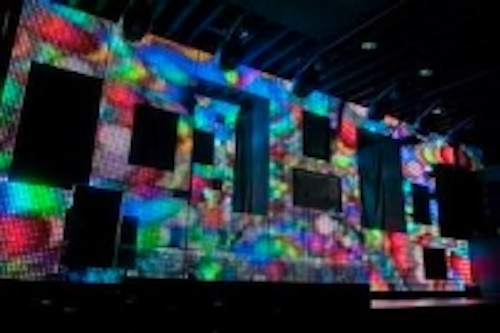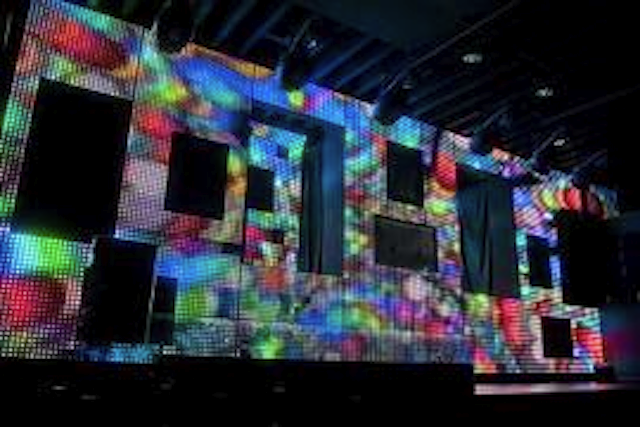 Date Announced: 08 Dec 2009
SAN DIEGO -– Any venue that calls itself Voyeur is obviously catering to those who wish to see and be seen. The so-named new electronic music nightspot in San Diego's Gaslamp District offers ample opportunities for devilish voyeurism everywhere you turn. Lipstick cameras strategically placed throughout the club, capture and project live feeds of patrons onto nearly two dozen plasma TV's.
The renovation of the former Ole Madrid, was inspired by a Radiohead concert. The band's Thom Yorke "had all these lipstick cameras around him, and we're aiming for the same effect," club co-owner Johnny Shockey said recently. "It's kind of like spying -- incorporating the whole voyeur concept."
There are a total of 22 plasmas in the club, with screens as large as 50". Seven of these TVs are positioned inside Voyeur's definitive feature – an LED wall, located behind the DJ Performance area, measuring 30' wide and 11' high.
But the LED wall isn't just big, it also has a uniquely-shaped configuration. Cutouts were made to accommodate the 7 inset plasma screens, audio speakers, and several lighting fixtures. Additionally, the wall wraps around two alcoves where dancers perform on raised platforms.
Creating an LED wall to encompass these openings and dimensionality posed a challenge, according to Dave McKinnon of Felix Lighting (La Mirada, CA), which helped design and install Voyeur's lighting system. "It was very much a jigsaw puzzle," said McKinnon. "The plasmas and other gear had to be inset first, so that we could build the wall around these elements. The wall also had to be recessed and overlapped where the dancers' platforms are."
The product chosen to meet this challenge was the X-Panel, a 7.9" x 7.9" square LED tile from Acclaim Lighting. Each X-Panel contains 25 high-intensity SMD RGB LED pixels, arranged in a 5 by 5 square. DMX compatible and controlled by Acclaim's X-Soft software, the X-Panel is extremely flexible in creating low-res displays that combine video, text and graphics, and is compatible with more than 10 types of software, including JPEG, FLASH, BMP, WMV, MPG, AVI and MOV.
Five-hundred and sixty-one X-Panel tiles were used to build the wall. The X-Panel's compact size and shape, along with its modular design, were what convinced Felix Lighting it was the right product to handle to job.
"We liked the fact that the X-Panel was small, was square, and is modular. This made it easy to install and easy to service" said McKinnon. "Other products were not square and did not allow us to fit in the required openings. The X-Panel gave us the flexibility that we needed."
Flexibility was also the reason Felix Lighting used a product from Acclaim's sister company Elation Professional – Flex LED Tape RGB -- to create a "glowing" effect throughout Voyeur. A thin LED circuit strip housed inside a protective silicone sleeve, Flex Tape comes in 10' spools of 60 2" long strips, each containing 3 SMD LEDs (red, green and blue), which can be cut and re-soldered together to create the desired length. Strips of Flex Tape – totaling 250' in all -- are used as an RGB color-changing border to highlight everything from the main bar's front edge and shelves, to the club's stairs and restroom surfaces. The tape is run off DMX drivers, which provide 3 channels and allow it to be used with any standard DMX-512 controller. "The Flex Tape was perfect, because it has a thin profile and a protective cover and it's very flexible," said McKinnon. "We used it to make everything in the club glow."
On Voyeur's Stage 2, Felix Lighting designed and installed a contrast to all the technology: 280 dimmable, individually channeled cabaret style lamps, that chase on an uploaded replay unit (AR32). Burlesque style stage helped to bridge the gap between old world peep shows and high tech voyeurism.
With its glowing interior and huge unique-shaped LED wall, Voyeur itself is as much fun to look at as to experience first-hand.
COMPLETE LIGHTING/VIDEO GEAR LIST BELOW
Gear List:
561-X-Panel LED Tiles
2-X36 Nodes
1-X-Soft Server HP
250'-RGB LED Flex Tape
11-PSU/Drivers for Flextape
2-AR32 Playback Systems
5-XFade 6 Control Panels
1-Antari Fazer X-310II
4-GrandMA Video Servers
1-Grand Ma Lite
6-PixalRange Pixal Arc C44
6-Martin MX-10
9-Light-O-Rama 16 ch dimmers #CTB16DWHS
120-11W marquee lamps
8-Thomas Single Lamp Mole Fay's
5-Mac Mini Computers
5-Axon Media Servers
1-16 Way KVM MAC/PC Switch
4-Christy 5k Video Projectors
2-Marshall VR72DP2C Dual 7" Rack-Mount Video Monitor
3-Marshall VR25p Ten Way 2.5" Rack-Mount Video Monitor
6-15" Flat Screen Computer Monitors
1-Extron 24x24 Composite Video Router
8-Lipstick Style Video Cameras
16-Still Cameras
4-ColorBlast 12 LED Fixtures
1-Doug Fleenor 6-way LED Power Supply
2-Leprecon LD-360HP Dimmer Packs
24-Amber CFL Lamps
28-Kramer CAT5 to Video Adapters
# # #
Contact
For more information, contact Acclaim Lighting at 323-317-9800 or visit www.acclaimlighting.com , or contact Elation Professional toll-free at 866-245-6726 or visit www.elationlighting.com Felix Lighting can be reached at 562-926-4780 or www.felixlighting.com
E-mail:abby@fucinipro.com
Web Site:www.acclaimlighting.com/