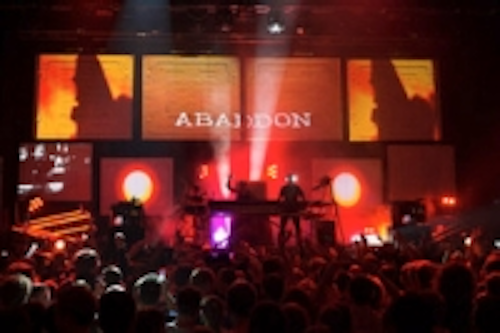 Date Announced: 16 Jun 2009
LD Jonny Gaskell is using 12 of the new i-Pix BB7 LED wash lights - with the 20 degree wide angle lenses - on UK dance gurus Orbital's ongoing own shows and festival dates.
Gaskell has worked with the band since 1996 - enjoying plenty of imaginative scope to evolve and re-invent their lightshow over that time. "Dynamics are always the key with lighting an Orbital show," he explains, "You have to keep everything pumping with the music, which is full on from start to finish, so you need a very flexible and versatile selection of fixtures".
Gaskell's style also usually involves adding a strong physical shape to the lighting rig - in this case achieved with V-shaped trusses and a VersaTUBE matrix. This is another reason he wanted to use BB7s - their flower-like looks bring real spatial contrast to the sharp lines of the metalwork and LED tubes.
He first used the original 10 degree BB7s on Prodigy last year, and was really impressed. "As always with i-Pix, they came out with something completely unique and very cool," he comments.
For this tour, he wanted to light Orbital's equipment from close-up with 6 of the BB7s and so needed the additional spread on the beams. These six BB7 fixtures are attached to floor trusses which are 'wrapped around' the band in close proximity.
When they are playing their own show or a festival headline slot, the other 6 BB7s are rigged on 3 drop bars behind a series of rotating screens upstage, used for high impact 'blast through' effects.
The output and dispersion of the new BB7s easily offers all the coverage he needs. Each unit mapped as 7 individual cells, and with the light quality and characteristics of the unit, he finds it "Effectively like having 7 PAR cans at your fingertips". This enables him to use them similar to the classic 'bar of 6 PARS'! "Six BB7s give a massive amount of options - I have 42 bulbs at my fingertips!"
He's also able to create some pretty funky chases on the individual BB7 cells utilising the Effects Engine of his Hog II console. "The BB7 is hugely popular at the moment, which is great, and it also challenges you to keep thinking about how to use them in new, different and inventive ways". He reckons it will be some time before he runs out of ideas on this front!
He is also using 12 i-Pix Satellite LED 'bricks' to tone the V shaped trusses - an application for which they are perfect . They are small and neat enough to be tucked anywhere, as well as being mega bright.
London based Neg Earth is supplying all the kit for Orbital this summer, and currently there is talk of a UK tour in the autumn.
Contact
For more info on i-Pix, please call Louise Stickland on +44 (0)7831 329888 or +44 (0)1865 202679 or Email louise@loosplat.com. Call i-Pix direct on +44 (0)161 443 4140 or check : www.i-pix.uk.com
E-mail:louise@loosplat.com
Web Site:www.i-pix.uk.com