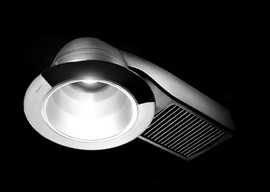 Date Announced: 09 Jun 2009
Cooper Lighting has expanded its range of Axent LED downlights with the introduction of a new model that delivers energy savings of over 54% when used in place of a 1 x 32W or 2 x 18W compact fluorescent luminaire.
Known as the RXD2, the new downlight consumes only 16W and achieves an efficacy of up to 59 lumens per circuit watt, which easily exceeds the Building Regulations requirement of 45 lumens per circuit watt for commercial lighting (Part L2) as well as the lower requirement of 40 lumens per circuit watt for residential lighting (Part L1).
The RXD2 is based on an innovative multi-chip LED light source. Unlike conventional high-output LEDs, this technology incorporates multiple LEDs in a single package, giving increased light output in a smaller space and a wider spread of light.
Effective thermal management is provided by proven pure-water heat-pipe cooling technology, which transfers heat away from the back of the LED source to the cooling fins. This advanced method eliminates the need for large, heavy heat sinks and helps the RXD2 to achieve a maintenance-free life of 50,000 hours.
Available with 1-10V dimming as a standard option, the downlight comes in round and square versions and can be specified as trimless or with white, silver or chrome bezels. It also offers a choice of 2900K warm white or 5000K cool white illumination, with efficacy values of 54 or 59 lumens per circuit watt, respectively.
The Axent RXD2 is a compact and lightweight fitting, and its body height of only 86mm makes it particularly suitable for use in restricted ceiling voids.
Contact
Cooper Lighting Tel: +44 (0)1302 303200
E-mail:artscience@cooper-ls.com
Web Site:www.artandsciencecombined.com