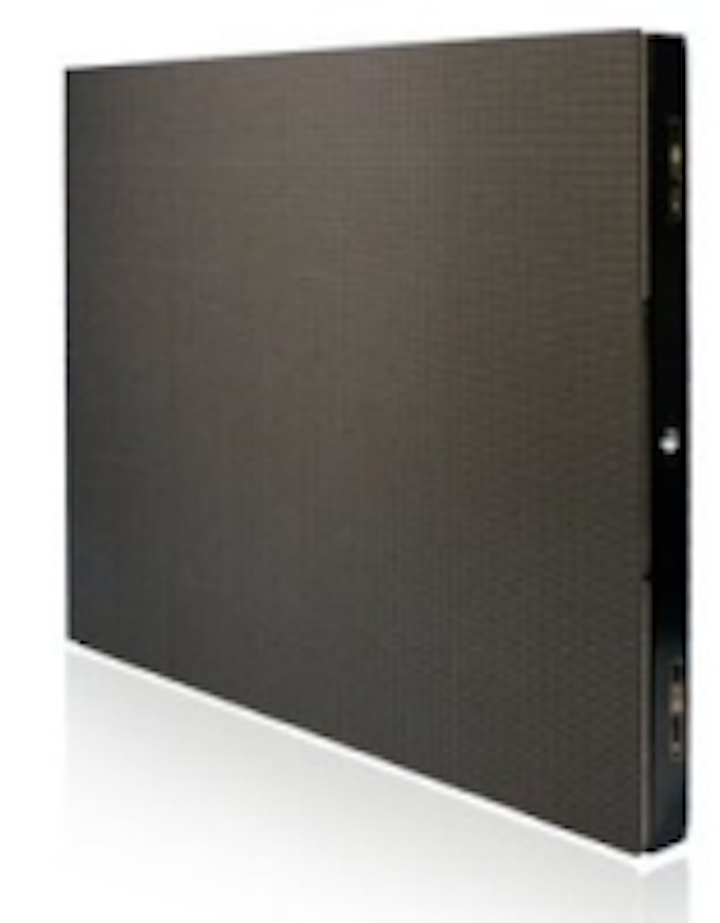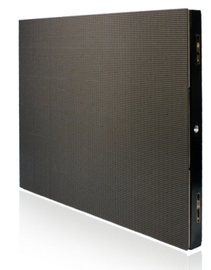 Date Announced: 17 Jun 2009
BROOKINGS, S.D. – Daktronics Inc. (Nasdaq-DAKT) of Brookings, S.D., will unveil the newest indoor addition to its PST product lineup, the Daktronics PST-6i-b modular LED video panel, featuring a black-package, 3-in-1 SMD (surface-mount device) LED at the InfoComm convention from June 17-19 in Orlando, Fla.
Designed for high-profile rental and staging applications, this thin, lightweight PST-6i-b panel is first in a series of black-package LED displays. Daktronics credits the 6 mm pixel design to its achievement of a superior contrast ratio and a display face that's 50 percent blacker than traditional indoor LED video displays.
"The PST-6i-b combines the lightweight packaging of the PST product line with Daktronics high-contrast, high-resolution 6 mm technology to achieve one of the finest visual products in the industry," said Myron Linde, Daktronics Mobile and Modular Sales Manager. "The product's thin, lightweight design allows it to travel efficiently and to top it off the panels offer an ultra-quiet solution for events that require little to no noise."
The PST-6i-b uses a thermally efficient module housing to evenly disperse heat, prevent hot spots and protect critical elements, while a fanless cabinet design makes it ideal for environments that require a noiseless solution. The panels also use an advanced louver design to eliminate module seams, or "checkerboard effect", and aid in achieving the widest indoor viewing angles available in the industry, at 140 degrees horizontal and 110 degrees vertical.
Built on a flexible modular platform, Daktronics PST panels act like building blocks to combine together in a wide variety of shapes and sizes to form large-screen video displays. Using thin, lightweight panels makes the setup and teardown process quick and easy. These panels feature 12 removable modules housed within the cabinet offering customers a high level of creative versatility.
"The PST family lets customers defy the boundaries of traditional LED video," said Myron Linde, Daktronics Mobile and Modular Sales Manager. "Close viewing distances, removable modules and a versatile building-block platform allow customers to explore a virtually infinite number of creative screen arrangements."
In conjunction with the PST-6i-b panel debut, Dr. Al Kurtenbach, co-founder and chairman of the board of directors of Daktronics will be at the booth.
"We are honored to have Dr. Al Kurtenbach joining us at InfoComm 2009 to meet with event attendees," said Linde. "With a lifetime of achievements, awards and experiences, Dr. Kurtenbach is a person who deserves the utmost respect, a man who had a vision and the desire to burn the midnight oil to make Daktronics a success."
InfoComm attendees may stop by Daktronics Booth 2560 to speak with Dr. Al Kurtenbach and catch a glimpse of the new PST-6i in action at the Orange County Convention Center.
About Daktronics
Daktronics is recognized as the world's leading provider for full-color LED video systems. Such Daktronics systems, used in both modular and fixed-installation applications, feature a host of patented manufacturing, image processing and control system techniques and technologies that provide it a significant competitive advantage in the LED video marketplace. Since 2001, independent market research conducted by iSuppli Corp. lists Daktronics as the world's leading provider of large screen LED video display systems.
Contact
Daktronics Joni Diekmann
E-mail:Joni.Diekmann@daktronics.com
Web Site:www.daktronics.com