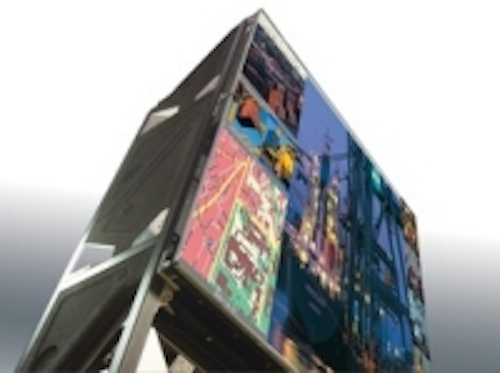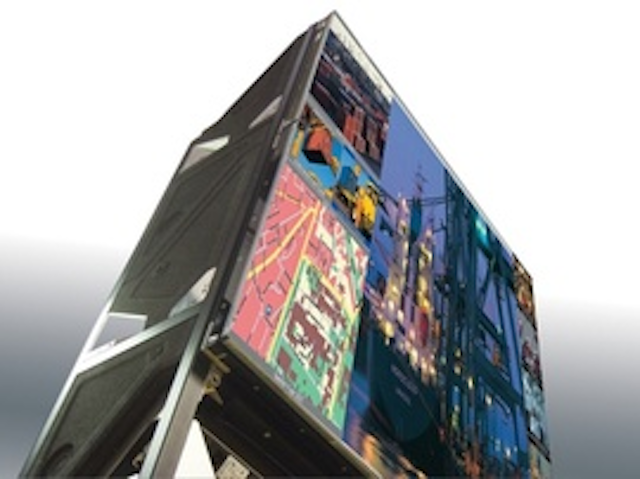 Date Announced: 18 Jun 2009
Barco's OL video wall series with unique Sense6 calibration and stabilization technology offers truly maintenance-free viewing
InfoComm, Orlando, FL, USA – Visualization specialist Barco has announced its new series of LED-lit rear-projection video wall displays. With the development of the full HD (1920x1080) LED-based video wall system, Barco builds on many years of experience with LED displays. Next to the obvious benefits of LED-based rear-projection technology, such as low maintenance and saturated colors, Barco's OL video wall series also features the unique Sense6 color calibration and stabilization technology which makes the video wall systems truly ready for 24/7 use.
"With the introduction of our new video wall series with LED-based illumination, we have made use of our vast combined experience with LED-based and projection-based visualization technology," comments Mr Mathieu Massart, Director Product Management of Barco's Displays technology unit. "Barco's OL video wall series incorporates our unique Sense6 sensor technology, which has proven its invaluable benefit with Barco's OV-D2 video walls during many years in 24/7 use. This way, we can offer a display solution that is truly maintenance-free and ready for mission-critical applications."
Barco's LED-based projection series consists of the rear-accessible OL and front-accessible OLF video walls. During the introduction phase, both are available in 50-inch and 70-inch screen sizes. All of them offer an ergonomically excellent viewing experience, with the sharpest and most saturated colors in full HD resolution. The OL and OLF video walls have a wide LED color gamut which exceeds the EBU standard, and present no signs of color break up whatsoever.
The OL and OLF video walls have been designed for an entirely maintenance-free operation over several years, with a guaranteed LED lifetime of 55,000 hours and a 5-year service-free runtime. There is also no need for consumables, such as color wheel or mercury lamps. Thanks to the embedded Sense6 sensor technology, the OL and OLF video wall systems are truly maintenance-free. As proven with the current OV-D2 product line, Sense6 provides brightness and color stability over time and across the entire video wall screen. Sense6 continuously measures brightness and color and adjusts the color space to provide an image that is most convenient for the human eye. Therefore, no maintenance or manual adjustment is needed.
Thanks to the small depth of the projection modules, the OL and OLF video walls are ideally suited for installation in confined spaces. Additionally, the OLF projection modules can be serviced from the front. A rugged design makes the video walls ideally suited for industrial environments.
The use of advanced low-weight materials and the mostly prealigned delivery make the OL and OLF video walls very installer-friendly. After installation Sense6 automatically keeps all projection modules in tune to compensate for the inherent color shift of LEDs during their lifetime. Additionally, the Barco control manager software keeps track of the health status and allows the user to configure the uniformity and health status in an easy way. The software exposes an API which allows it to be integrated into larger device management applications.
Next to the new OL video wall series, Barco will also still maintain its current OV-D2 product line of DLP-based rear-projection systems for applications beyond the current capabilities of LED technologies.
The OL and OLF video wall series will be demonstrated at this year's InfoComm 2009 exhibition in Orlando, FL, USA, from 17 to 19 June 2009.
About Barco
Barco, a global technology company, designs and develops visualization products for a variety of selected professional markets. Barco has its own facilities for Sales & Marketing, Customer Support, R&D and Manufacturing in Europe, North America and Asia Pacific.
Barco (NYSE Euronext Brussels: BAR) is active in more than 90 countries with about 3300 employees worldwide. Barco posted sales of 725 million euro in 2008.
Contact
Johanna Ocampo Press & PR Specialist North America Barco n.v.
E-mail:johanna.ocampo@barco.com
Web Site:www.barco.com