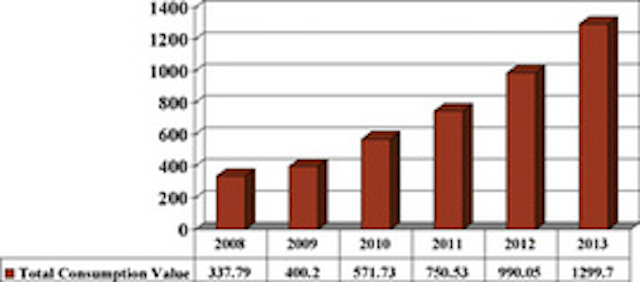 Date Announced: 22 Jun 2009
Upper Lake, CA (USA) -- ElectroniCast Consultants, a leading market & technology forecast consultancy, today announced their market forecast of the global consumption value of packaged Light Emitting Diodes (LEDs) chips (also known as component-level bulbs) used in selected Solid State Lighting (SSL) Illumination applications.
Consumption value market forecast summary data are also provided for unpackaged (bare) chips used in selected LEDs as well as LED Lamps (consumer-level bulbs) used in selected SSL Illumination applications.
According to ElectroniCast, the global use of LEDs in solid-state lighting (SSL) illumination was $337.79 million in 2008 (up from $283.95 million in 2007). The consumption value is forecasted to increase at an average annual growth rate of 30.9 percent to reach nearly $1.3 billion in 2013, with strongly rising quantity growth partially offset by a continuing decline of average prices.
"The market for interior LED solid-state lighting in retail stores and food service is set to expand by a factor of over 15x in 5-years in the United States," said Stephen Montgomery, the Director of the LED research projects at ElectroniCast.
"Green-Tech concerns, the excitement of integration possibilities of innovations, as well as the creation of more sophisticated lighting designs and aesthetic quality or effect, are only a few of the market dynamics in this field. However, the excitement of these possibilities will require a stronger sense of strategic market branding by the LED industry to counter consumer-level concerns of initial sticker-price shock," Montgomery said.
Residential and commercial/government EXTERIOR lighting fixtures (landscaping, pool/fountain, buildings, bridges, architectural and other general lighting) applications, in 2008, represented an 85 percent share of worldwide consumption of LEDs used in solid-state lighting (SSL) illumination.
The channel lettering lighting/light-box (signage) application, in 2008, represented a 9 percent share of the worldwide market value of LEDs used in solid-state lighting (SSL) illumination. "High brightness LED (HB-LED) concepts offering low voltage and operate with low running costs as well as enabling increased longevity with reduced maintenance costs are attractive strengths for LEDs versus the weaknesses of traditional forms of lighting," Montgomery said.
Residential and commercial/government INTERIOR lighting fixtures (including retail display, general lighting, related), as well as "Other" [vehicle, aircraft/ship, military devices/equipment, medical/lab devices/equipment, industrial measurement/control (machine vision), appliances, portable/battery, off-grid, lamps, several other product/concerns] application forecast data were also covered in the ElectroniCast study project.
# # #
This market forecast report is available immediately, at a fee of $3,800, from ElectroniCast Consultants. For detailed information on this or other services provided by ElectroniCast, please contact Theresa Hosking, Marketing/Sales; thosking@electronicastconsultants.com
(Telephone/USA: 707/275-9397)
ElectroniCast Consultants – www.electronicast.com specializes in forecasting trends in technology forecasting, markets and applications forecasting, strategic planning and consulting. ElectroniCast Consultants, as a technology-based independent forecasting firm, serves industrial companies, trade associations, government agencies, communication and data network companies and the financial community. Reduction of the risk of major investment decisions is the main benefit provided. ElectroniCast Consultants' goal is to understand the challenges and opportunities facing clients and to provide timely, accurate information for strategic planning.
Contact
Theresa Hosking Director, Sales and Marketing ElectroniCast Consultants 9959 Old Orchard Lane Upper Lake, CA 95485 USA TEL: 707/275-9397 FAX: 707/275-9502
E-mail:thosking@electronicastconsultants.com
Web Site:www.electronicast.com