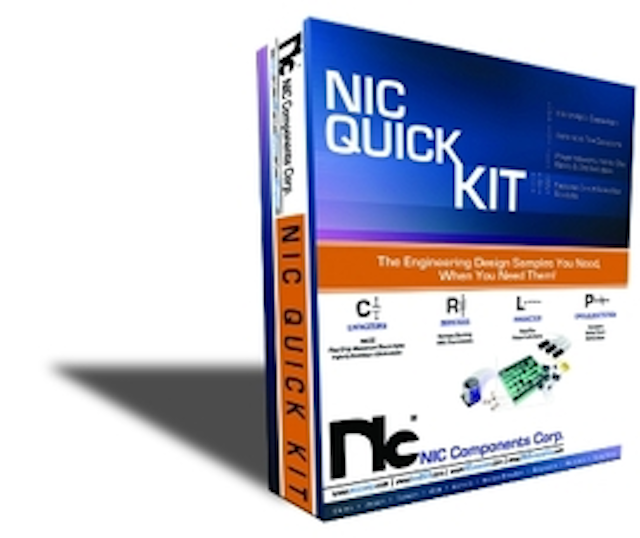 Date Announced: 17 Jun 2009
Eliminates Sourcing Effort, Enables Faster Prototyping
MONTREAL, CANADA - Future Lighting Solutions today announced the availability of pre-bundled reference design 'Quick Kits' from NIC Components that speed the process of prototyping solid-state lighting applications. The kits contain passive components matched to the driver being used and can be ordered at www.niccomp.com/qk-fls simply by selecting the appropriate driver IC from a dropdown menu.
This strategy eliminates the need for design engineers to spend time sourcing components individually, often from multiple vendors. It also ensures that engineers receive the components actually required in their design rather than the random sample kits usually provided by manufacturers.
Each kit includes power inductors, capacitors and current sensing resistors that meet the specifications outlined in reference designs from the integrated circuit manufacturer. The Future Lighting Solutions site now offers kits for a variety of Diodes Inc. drivers, National Semiconductor, NEC Electronics, and ON Semiconductor with NXP options to be added shortly. Kits can be shipped anywhere in the world within 72 hours of request.
Designers can also replace or delete recommended kit items, and/or quickly find other products in NIC's 700-part Quick Kit library by inputting the desired parametric values into separate dropdown menus.
"These NIC Quick Kits extend our mission of providing a single source for all LED application development needs," said François Mirand, European Technical Manager for Future Lighting Solutions. "This is another step in our efforts to make solid-state lighting solutions simple for the engineering community."
About Future Lighting Solutions
Future Lighting Solutions is a leading provider of LED lighting components and solution support for lighting designers and OEMs interested in taking advantage of solid state lighting technology. Future Lighting Solutions provides LED lighting knowledge, resources, programs, partners, solutions and logistics support to promote the development of LED products and installations. The company is a division of Future Electronics, the third largest electronic components distributor in the world. Both companies operate in 169 locations in 41 countries in the Americas, Europe and Asia.
Contact
Heather Goldsmith 514 694.7710 Ext 5245
E-mail:heather.goldsmith@future.ca
Web Site:www.futurelightingsolutions.com