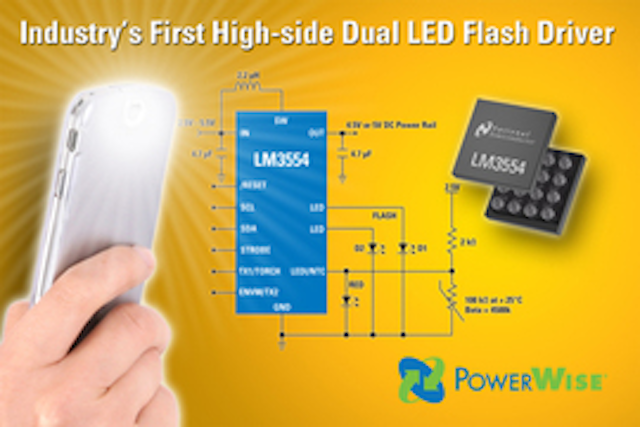 Date Announced: 29 Jun 2009
PowerWise Synchronous Boost Converter Enables Thermally Optimized Flash System in Portable Devices
SANTA CLARA, Calif. – National Semiconductor Corp. (NYSE:NSM) today introduced the industry's first high-side light-emitting diode (LED) driver that enables dual LED operation for the camera flash function in portable, battery-powered multimedia devices. The LM3554, a member of National's PowerWise® energy-efficient product family, drives one or two high-current LEDs for flash applications in handheld devices such as mobile phones, smartphones and portable scanners.
Traditional LED flash drivers sink current from a single high-current LED back into the driver resulting in significant heat dissipation into the driver IC and reduced system reliability. The LM3554's dual LED, high-side current-drive architecture sources regulate current into two LEDs with cathodes connected directly to the ground. This ground connection provides more effective thermal dissipation while minimizing routing complexity and protecting sensitive circuitry. Due to nonlinearity of LED light output versus LED current, the dual LED architecture consumes less power for the same light output as a single LED. In addition, monitoring pins enable detection of other high current demands in the system, adaptively throttling the LED current to avoid drawing excessive battery current, which can cause faults or harm the system.
The LM3554 is offered in a 16-pin micro SMD package. A complete boost converter solution for LED flash using National's LM3554 measures less than 23 mm squared.
Technical Features of National's LM3554 LED Driver
National's LM3554 flash LED driver is a fixed-frequency, step-up DC-DC converter with two regulated current sources capable of driving loads up to 1.2A from a single-cell Li-Ion battery.
The LM3554 drives the LEDs in a high-power flash mode for still photography or a low-power torch mode for video recording. To configure the driver, designers can adjust the flash current levels and timer durations via an I2C compatible interface. The LM3554 features built-in time-out protection to protect the flash LEDs in case of a fault condition.
National's LM3554 features an adjustable switch current limit for the use of small inductors with low saturation currents. The voltage mode offers a 5V rail, which can be used for backlight LEDs and audio amplifier supplies. One or more high-current LEDs can be driven either in a high-power flash mode or a lower-power torch mode controlled by either an internal register or the strobe and TX pins. A GPIO pin adds a separate hardware control resource to the system. The hardware reset pin offers full control over the device in the case of I2C communication failure. Additional features include internal soft-start to eliminate large in-rush currents during start-up and fast switching frequency, allowing for the use of small external components.
For more information on the LM3554 or to order samples or an evaluation board, visit http://www.national.com/pf/LM/LM3554.html.
Availability and Pricing
National's LM3554 is available now and is priced at $2.32 in 1,000-unit quantities.
About National Semiconductor
National Semiconductor is a leader in analog power management technology. Its products include easy-to-use integrated circuits, PowerWise products that enable more energy-efficient systems, and SolarMagic products which improve the energy output of solar arrays. The company celebrates its 50th anniversary this year. Headquartered in Santa Clara, Calif., National reported sales of $1.46 billion for fiscal 2009.
###
National Semiconductor and PowerWise are registered trademarks of National Semiconductor Corporation. All other trademarks are the property of their respective owners.
Contact
Design Support Group National Semiconductor (800) 272-9959
E-mail:gayle.bullock@nsc.com
Web Site:www.national.com/led