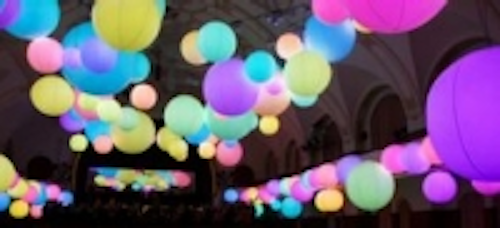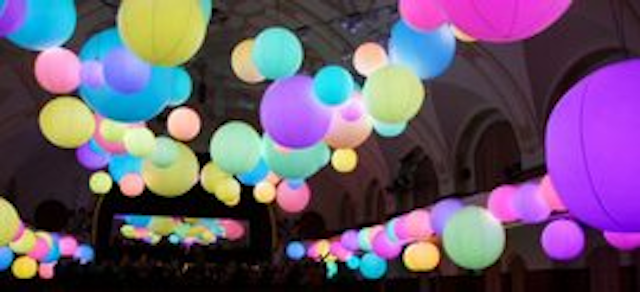 Date Announced: 30 Jun 2009
170 Balloons Changed Color to Match Music's Mood & Tempo
MONTREAL, QUEBEC – A historic light-art concert in Jena, Germany, featured a color-changing performance by 170 LED-illuminated weather balloons in a custom installation engineered by a team assembled by Future Lighting Solutions. Super-sized balloons hung throughout the concert hall changed color on a pre-programmed schedule paralleling the mood and tempo of the music, utilizing RGB LED modules built with LUXEON® Rebel LEDs as well as a closed-loop color and brightness management system to achieve color consistency from balloon to balloon.
Future Lighting Solutions supplied the LUXEON LEDs from Philips Lumileds as well as tools and services to help ensure color uniformity in the LEDs themselves. Proprietary Future tools were used to calculate the achievable chromaticity coordinates and thereby determine which color bins were required to produce the required color values. Future's binning program then ensured that every balloon would be illuminated by LEDs from the same bin of each color in Future's managed inventory.
The LED modules were designed and manufactured by MAL Effekt, a German-based Future Lighting Solutions Integration Network Member, and mounted on aluminum tubes inserted into each balloon. MAL Effekt also developed a custom DMX512 Power module that was used drive the LEDs, generate the desired colors, and control both color point and brightness via pulse width modulation (PWM).
MAZeT GmbH, another Future Lighting Solutions partner, supplied color sensors that monitored the color produced by the RGB modules and sent the information from a central DMX512 control panel to a custom MAZeT electronic for any necessary adjustments to ensure the homogeneity of color tones from balloon to balloon. The JENCOLOR color sensors were developed by MAZeT and manufactured by JENOPTIK.
About Future Lighting Solutions
Future Lighting Solutions (www.futurelightingsolutions.com) is a leading provider of LED lighting components and support services for solid-state lighting products and installations, including engineering expertise, concept development, full system solutions and online tools that accelerate quality application development. The company is a division of Future Electronics.
Contact
Heather Goldsmith Ph: +1 514-694-7710 Fax: +1 514-429-0144
E-mail:heather.goldsmith@future.ca
Web Site:www.futurelightingsolutions.com