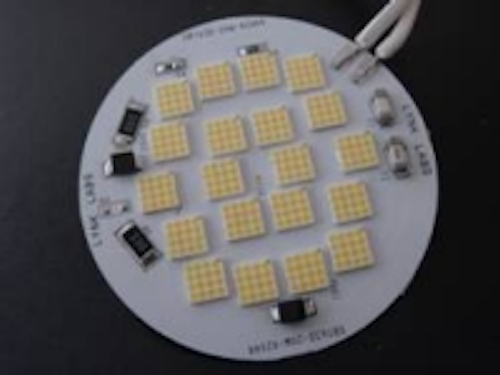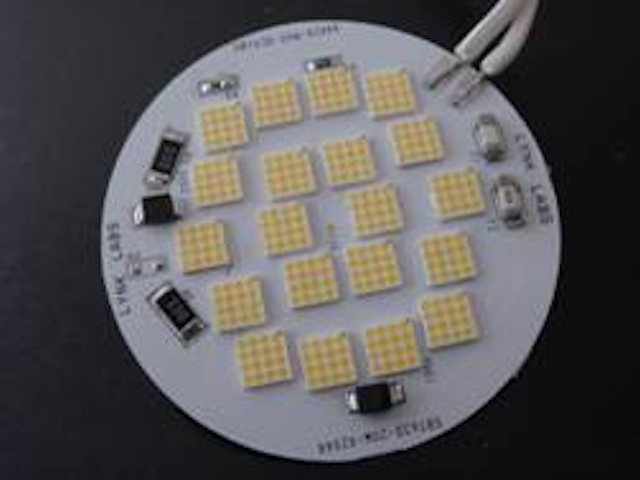 Date Announced: 17 Jun 2009
-- SnapBrite(tm) SBT63-20W AC LED Light Engine delivers a 120/240VAC dual-voltage AC LED solution in a compact UL-friendly rapid design solution for OEMs.
Egin, Illinois -- Lynk Labs Inc., the leading supplier of AC LED device, light engine and power supply technology, has introduced a newly patented dual-voltage AC LED solution integrated within a 120VAC/240VAC direct mains compatible AC LED light engine.
The NEW SnapBrite(tm) SBT63-20W AC LED light engine design is "based on new patented multi-voltage and multi-level brightness AC LED technology developed by Lynk Labs," said Mike Miskin, CEO of Lynk Labs.
"This first implementation of some exciting next generation AC LED technology being developed at Lynk will take AC LED light engine, package and single chip technology to a new level for general lighting fixtures and AC LED bulb applications."
The SBT63 light engine, utilizing Lynk Labs Tesla(tm) AC LED devices packaged by Intematix, provides a 120VAC or 240VAC direct mains compatible 20 Watt AC LED light engine in a 63mm diameter package.
The SBT63 can easily be configured in production for either 120VAC or 240VAC or via a simple 2-way switch in the fixture. 110/220VAC designs are also in development according to Lynk Labs.
Building on several years of increasingly successful implementation in general lighting sector applications, Lynk Labs continues to broaden product offerings and grow the company's IP portfolio surrounding AC LED technology.
The Tesla T6565 12V ACLED device manufactured for Lynk Labs by Intematix takes Lynk Labs' AC LED topology into a single 12VAC chip-level single package. The SBT63 has been designed around UL requirements to provide a simple solution from design to end product for OEMs.
SBT63 Applications include:
- Down Lights
- Spot Lights
- Flood Lights
- Indoor/Outdoor Lighting
Contact
Lynk Labs Inc. 2511 Technology Drive, Elgin IL 60124 Tel: 847.783.0123 Fax: 847.783.0130
E-mail:sales@lynklabs.com
Web Site:www.lynklabs.com