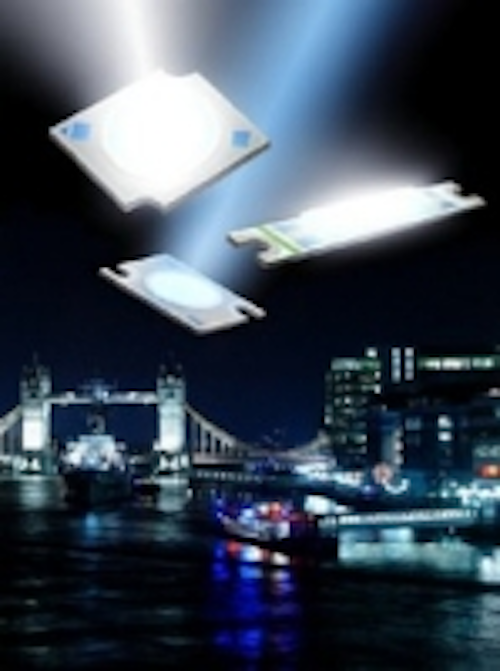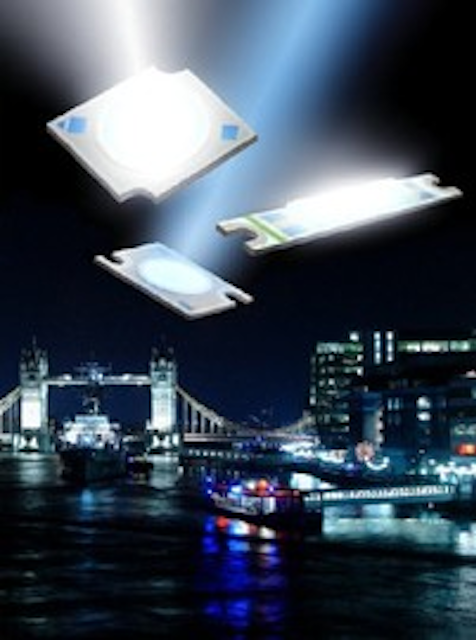 Date Announced: 29 Jun 2009
Ulverston, UK - Marl is extending its reach into the street and flood lighting markets with the launch of what it believes is one of the world's brightest and most efficient LEDs from Citizen.
Available in the UK from Marl, the new Citizen CL-L233 delivers an intense 1335 lumens of white light from 13W at a colour temperature of 5000K. CL-L233 delivers this light over a narrow 120 degree beam, eliminating the well known light pollution caused by most street lighting technologies which emit light over 360 degrees. The product provides a much more cost effective solution than existing LED products addressing this market. These normally feature arrays of 1W LEDs.
According to Marl, this powerful new solution extends the potential of LED technology in applications such as spotlights for stadiums and concerts, security and perimeter lighting, and street and industrial site illumination. Marl's LED specialists will be developing LED assemblies based on the Citizen LED to address these market opportunities, providing a solution that delivers the best performance and fully protects the LED from the environment.
The packaging for the CL-L233 has been carefully developed to maximise the performance and efficiency of the product, and features a highly efficient heat release mechanism. The unit is 23mm x 17.5mm x 1.4mm and is designed for screw mounting to a heat sink. Citizen CL-L233 LEDs draw up to 720mA of forward current at a voltage of 18.6V.
About Optosource
Marl Optosource is one of the UK's leading distributors of LED components. Optosource offers privileged access to the product portfolios of the world's leading optoelectronic manufacturers, and can offer a complete one-stop solution to any visible opto electronic component requirement. The new website contains a detailed database on all LED components and accessories including heatsinks, drivers and lenses.
About Marl
Marl has specialised in the design and manufacture of visible LED indication and illumination components and systems for over 35 years, to customers in the electronic, power generation, defence and telecommunications industries. Its highly trained and experienced team of over 100 design and manufacturing specialists operate from a dedicated technology park in Ulverston, England and stand ready to offer its customers a solution to any requirement. They are able to offer a range of standard products, customised to suit individual projects, or even design a specific component from scratch. Marl is a quality company. It is registered to BS EN ISO 9001:2000 standard and fully RoHS and WEEE compliant.
Photo caption: Marl has introduced the CL-L233 – one of the world's brightest and most efficient LEDs from Citizen - to extend its reach into the street and flood lighting markets.
Contact
Marl International Limited Marl Business Park, Ulverston, Cumbria, LA12 9BN, UK Tel: +44 (0)1229 582430 Fax: +44 (0)1229 585155
E-mail:marketing@marl.co.uk
Web Site:www.optosource.com