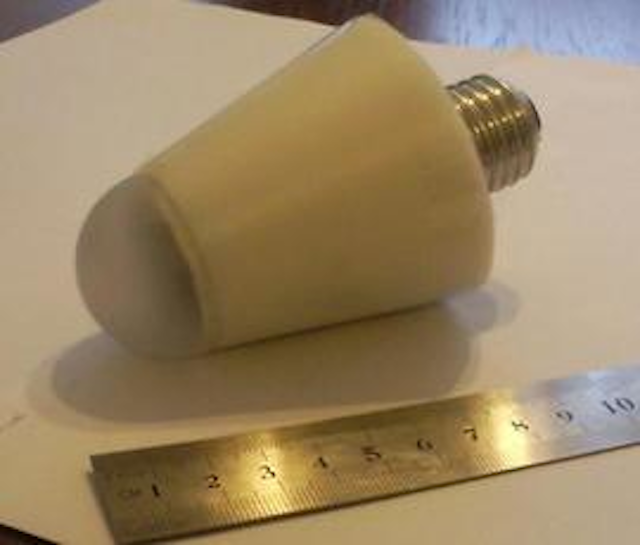 Date Announced: 06 Sep 2009
Brus Technologies company presents a prototype of ENERGY-SAVING WHITE AND VARIABLE-COLOR LIGHTING LAMPS,equivalent to a filament bulb of 60w. The lamp uses LEDs (3w, 700mA).
Lamp properties:
The developed structure allows creating compact white and variable-colored lamps of any intensity.
The emitter size of such lamps does not vary with its intensity, and does not exceed the size of the bulb of a filament lamp.
The lamp size is limited only by the driver that is placed inside the lamp.
The light flux leaving the lamp has a uniform spatial mixing and uniform spatial scattering of colors.
The angle of the uniform spatial dispersion reaches 180 degrees and in different modifications can reach 300 degrees.
Color control is preformed by changing the voltage of colored LEDs.
The developed lamps allow to vary the color and intensity of lighting at any instant, and thereby to create multiple color combinations changeable at will. This allows the simultaneous solution of unctional and aesthetic problems according to the purpose of one or another room and to the time of day.
Now everyone can choose and change lighting colors in compliance with his or her character and mood at the moment.
The white light lamp simultaneously uses white LEDs with different shades. The temperature produced corresponds to the temperature of the LEDs in the lamp.
The white light lamp has transparent emitter, which can be made of glass or plastic, be colored, changeable or embossed.
Possible uses:
- Indoor or outdoor lightning.
- Lightning applications: spots, ceiling lamps, wall lamps,table lamps, chandeliers etc.
- In Spot Curing Systems.
- In various electro-optic devices for colored or non-colored lighting or as signal lamps. Instead of separate signal lamps
(red, green, yellow, etc.), it will be sufficient to have only one changing its color.
- The color of advertisements and the interior of buildings can also be varied in time.
- For motor cars. Instead of using several light sources, direction indicator, brake, and rear lights may employ only one light source changing it color.
Thus, the invention offers ample for progress in the lighting and color pattern of rooms.
Currently, the company has the following objectives: Development of industrial samples,development of miniature drivers for a series of lamps equivalent to filament bulbs of 40w, 60w, 100w, 150w and more,
development of different modifications and lightning applications.
Patent pending.
A video of a variable color lamp prototype is available at: http://www.youtube.com/watch?v=L1bSjPqHHj0
Contact
Brus Technologies, Israel Tel: +972-54-7985218
E-mail:zinovi_b@hotmail.com
Web Site:www.brus-tech.com