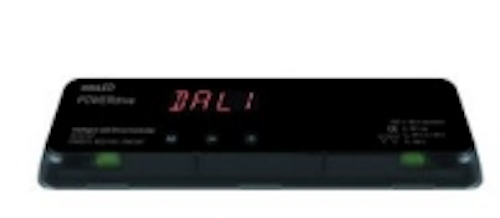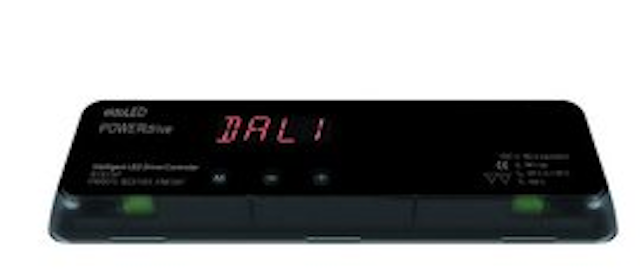 Date Announced: 11 Sep 2009
POWERdrive is an LED driver/controller with multiple LED current sources for DMX, DALI and 0-10V networks offering a power output of up to 180 watts. POWERdrive has a wide supply voltage range of 12V-32V DC. The LED current can be set for each channel individually, giving you enormous flexibility in driving your LEDs. Available in 45, 90 and 180 watt version.
Suitable for practically all LED types and configurations
The LED current of the POWERdrive can be set to any value between 200mA and 1.4A in 50mA steps, making them a perfect match for practically all LED types and configurations.
Setup is a breeze!
Configure the POWERdrive over its intuitive, 3-button user interface with display. The easy-to-navigate menu allows you to set parameters such as number of channels, DMX or DALI settings for networked mode and show/colour/dim values for standalone operation. You can also lock the driver's configuration and perform a visual test run of the connected LED groups.
And more...
POWERdrive is DMX and LedSync compatible, allowing 15-bit dimming and colour control and bidirectional communication for driver configuration and temperature read-out. It has a low EMI and robust thermal management, and is easy to connect.
ShowMaster, supported on all eldoLED driver/controllers, allows you to upload show sequences for use in standalone mode. You can create and manage your own show sequences with the TOOLbox and freely available PC software.
For full technical details, see www.eldoled.com/powerdrive.
Contact
eldoLED NAsales@eldoled.com or +1-408-451-9333 (USA) sales@eldoled.com or +31-40-2054050 (other countries)
E-mail:sales@eldoled.com
Web Site:www.eldoled.com/powerdrive