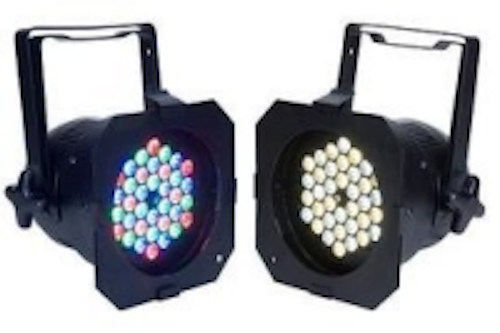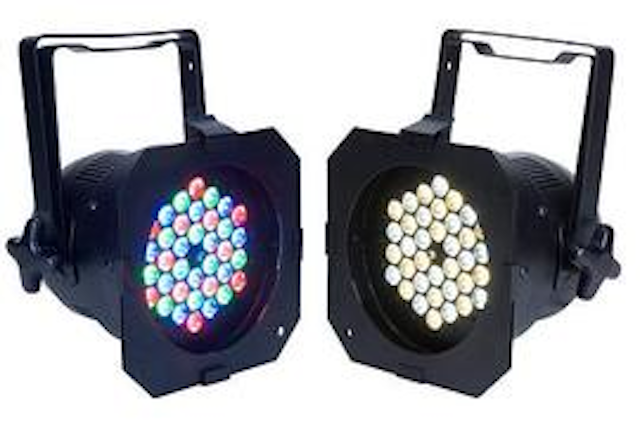 Date Announced: 09 Sep 2009
LOS ANGELES – American DJ has turned up the juice on LED par cans with the introduction of two new ultra-bright models, the PROPAR 56RGB and PROPAR 56CWWW, an RGB color-mixing and warm/cool white unit respectively. The brightest – and flagship – members of the company's "Pro" series of professional LED par cans, the PROPAR 56RGB and PROPAR 56CWWW are each powered by a massive arsenal of 36 super-high-output 1-watt LEDs.
Combining this brilliant output with professional features and a sleek black finish, the PROPAR 56 units are great for theaters, music concerts and stage performances of all types. They provide bright, professional-quality theatrical lighting without emitting the uncomfortable heat of traditional halogen par cans, thanks to their cool-operating LEDs. Compatible with DMX protocol, they also offer a variety of features and effects that go well beyond the standard halogen par's capabilities.
The PROPAR 56RGB will bring a rainbow to any stage with its ability to create thousands of colors through smooth RGB mixing. Equipped with 12 red, 12 green and 12 blue 1-watt LEDs, it can change colors fast or slow, strobe in any color, and perform gradual fades via 0-100% electronic dimming. Featuring a 10° beam angle, the PROPAR 56RGB can run in 6 different DMX modes to accommodate a variety of user needs. It can also be operated without a controller in Sound Active, Master/Slave and Manual modes.
The PROPAR 56CWWW is a warm white and cool white par can in one. Powered by 18 warm white (3000K) and 18 cool white (6000K) 1-watt LEDs, it allows users to create the perfect shade of white through variable color temperature control. A strobe effect and 0-100% electronic dimming are included on the unit, with 3 DMX channels providing control over cool white dimming, warm white dimming, and strobe speed. The PROPAR 56CWWW can also be run in Sound Active, Master/Slave and Manual modes.
Both PROPAR 56 models include a full complement of features demanded by today's professional stage lighting users, such as a convenient 3-button DMX display panel on the rear, and multi-voltage operation: AC100-240V, 47/63Hz. The units come with a versatile dual bracket system that gives users the option of hanging the fixture or setting it on the ground.
In addition to their cool running temperature, the PROPAR 56RGB and PROPAR 56CWWW offer other operational advantages over halogen par cans. Their LEDs have a much longer life, rated at 50,000 hours, which virtually eliminates the time and expense of lamp replacement. They also consume much less power; despite their extreme brightness, each fixture draws only 50W of electricity, saving on energy costs and allowing more units to be run on a single circuit.
"As the flagship models in our 'Pro' Series, the PROPAR 56RGB and PROPAR 56CWWW are comparable in brightness, performance and features to professional LED Par 56 cans that are much more expensive," said Scott Davies, General Manager of the American DJ Group of Companies. "These exciting new units represent one more step American DJ has taken to bring high-quality, cutting-edge LED lighting products to an affordable level."
With their attractive black finish, the PROPAR 56RGB and PROPAR 56CWWW will look as good on stage as they perform. Each model weighs 5 lbs. and measures 12.5"L x 9.5"W x 9.5"H. The MSRP of the PROPAR 56RGB is $459.95. The MSRP of the PROPAR 56CWWW is $459.95.
To see the PROPAR 56RGB in action, click on link below.
http://www.youtube.com/watch?v=2lWb2RCZTHw
Contact
For more information, contact American DJ at 1-800-322-6337, or visit the company's website: www.americandj.com Email: info@americandj.com
E-mail:abby@fucinipro.com
Web Site:www.americandj.com