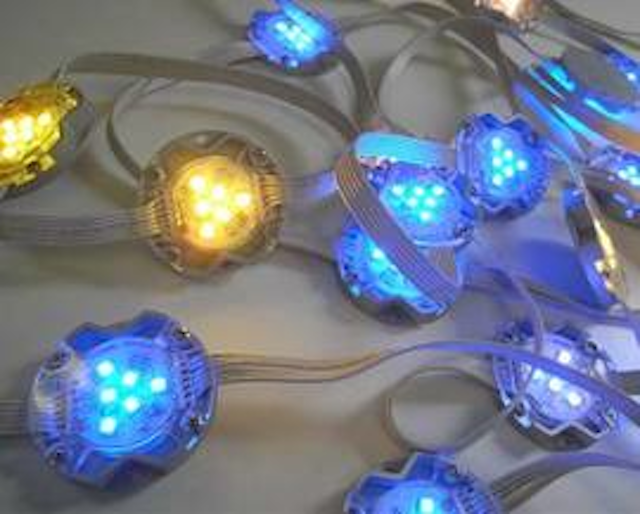 Date Announced: 16 Sep 2009
Hong Kong – Traxon announces the launch of its latest cutting-edge innovation: the IP-67 rated Dot XL is an outstanding ultra brightness outdoor solution, perfectly suited for enriching most demanding and sophisticated architectural applications with full color lighting effects and spectacular video animations. The highly innovative multi-functional lighting fixture is equipped with six or nine high-performance LEDs per casing, mounted on a flexible cable. The scalable system with customizable pixel pitch option enables an outstanding versatility of the Dot XL.
Architects and designers are no longer limited to traditional forms and screen concepts but have access to installations on almost any surface or three-dimensional shape. Embedded in a robust casing that ensures full outdoor capability, the fixture's die-cast aluminum base furthermore guarantees maximum heat dissipation to ensure an optimal working temperature. The individually controllable dots allow for an application even in bright sunlight, rain or any extreme weather condition, representing a perfect solution for large-scale outdoor media façades.
Containing up to 32 dots (9-LED) or 40 dots (6-LED) per cable, the dots are controllable by DMX or DVI input signals, enabling the replay of any kind of video content and live stream input. Featuring easy interconnection and daisy-chaining possibility, the Dot XL is perfectly suitable for any large-scale media installation where a unique and sustainable lighting concept is required.
With this outstanding product, a huge project has already been realized in the entrance hall of Asia's tallest building, the International Commerce Centre in Hong Kong. A unique 27m x 17m LED screen has been installed consisting of 35 rows of high aluminum extrusion and comprising 9,450 pieces of individually controllable Traxon Dot XL which allow a multitude of impressing lighting scenarios and displays.
Contact
Ulrich Maximilian Schwele, International Marketing Communications Traxon Technologies Ltd. 208 Wireless Centre, 3 Science Park East Avenue, Hong Kong Science Park, Shatin, Hong Kong Direct +852 2943 3435
E-mail:u.schwele@traxontechnologies.com
Web Site:www.traxontechnologies.com