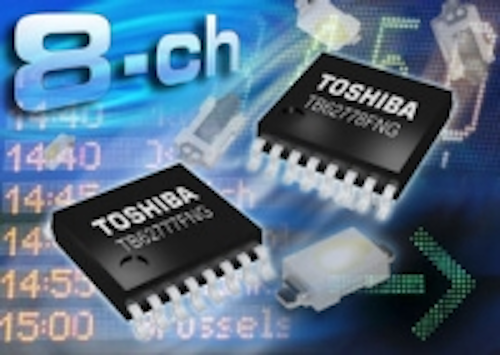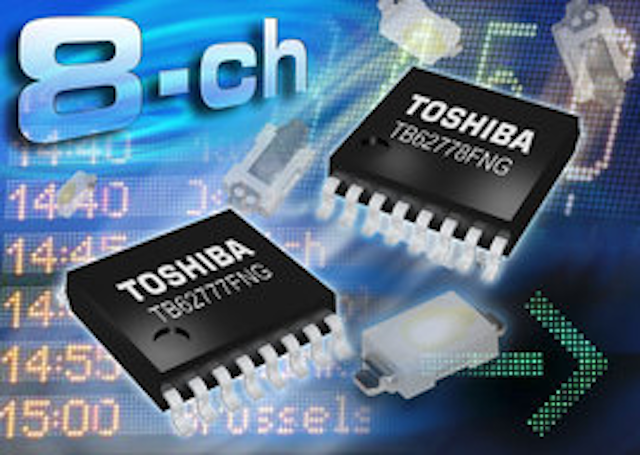 Date Announced: 13 Nov 2009
-- Constant-current drivers deliver up to 15mA output from SSOP package and support serial data transfer rates of up to 25MHz
Düsseldorf, Germany -- Toshiba Electronics Europe (TEE) has announced two new integrated constant current LED drivers that provide high accuracy and fast response time in a small SSOP package. These eight-channel devices reduce component count and board space requirements in applications that use displays with multiple LEDs.
Intended for use with common anode LEDs, the TB62777FNG and TB62778FNG ICs can deliver up to 50mA per channel, adjustable via a single external resistor, and maximum output voltage of 25V. Output current is tightly toleranced, with a current accuracy of ±3% between channels and ±6% between different devices, ensuring consistent brightness.
Both the TB62777FNG and TB62778FNG feature power-on reset and thermal shutdown functionality, while the TB62778 includes supplementary gain control/ output open and output short detection. The devices operate with a supply voltage between 3.3V and 5.0V.
Internally the devices are based around eight channels of shift registers, latches, AND gates and the constant current outputs. Control data format is serial-in, parallel-out. The devices are fully BiCMOS-compatible and can accommodate 3.3V and 5.0V input signals. Drivers can be cascaded to support serial data transfer rates of 25MHz.
Both devices are supplied in 16-pin SSOP-P225-0.65B packages measuring 5.0mm x 4.4mm x 1.6mm and will operate at temperatures between -40ºC and 85ºC.
###
About Toshiba
Toshiba Electronics Europe (TEE) is the European Headquarters for the electronic components business of Toshiba Corporation, which is the world's fourth largest semiconductor vendor according to estimates by Dataquest.
Providing design, manufacturing, marketing and sales, TEE was formed in 1973 in Neuss, Germany. The company now has headquarters in Düsseldorf, Germany and subsidiaries in France, Italy, Spain, Sweden and the United Kingdom. Company president is Mr. Hitoshi Otsuka and the total number of personnel in Europe is around 300.
Toshiba Electronics Europe offers one of the industry's broadest IC and discrete product lines including high-end memory, microcontrollers, ASICs, ASSPs and display products for automotive, multimedia, consumer, telecoms and networking applications. The company also has a wide range of power semiconductor solutions.
Toshiba Corporation is a leader in information and communications systems, electronic components, consumer products and power systems. The company's integration of these wide-ranging capabilities assures its position as an innovator in advanced components, products and systems. Toshiba operates a global network of more than 730 companies, with 199,000 employees worldwide and annual sales surpassing US$67 billion.
Contact
Toshiba Electronics Europe, Hansaallee 181, D-40549 Düsseldorf, Germany Tel: +49 (0) 211 5296 0 Fax: +49 (0) 211 5296 792197
E-mail:mac-ic@toshiba-components.com