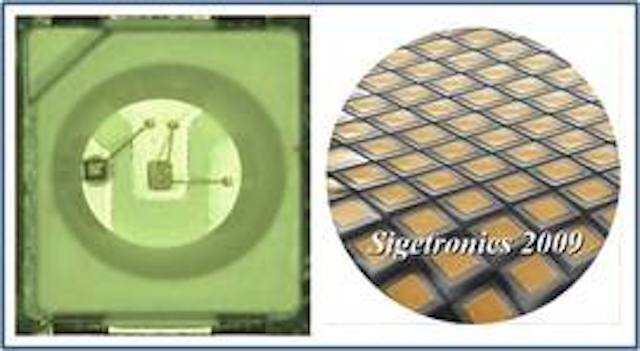 Date Announced: 19 Nov 2009
Jeonju, Korea – Sigetronics, Inc. today announced a new series of TVS Zener diode for ESD (Electrostatic Discharge) protection of LED lighting for high temperature (HT) applications.
The new TVS Zener diode is the industry's first ESD protection solution for LED applications to feature a bidirectional, low leakage, ESD robustness, and long lifetime at HT (>100 deg.C). This enhanced level of ESD protection is a requirement for a growing segment of LED lighting applications utilizing multiple LEDs driven at HT in either serial or parallel arrangements.
Delivering ESD protection at HT poses the new challenge of dissipating a higher level of power during an ESD strike, and also in maintaining acceptably low leakage currents. A silicon-based, side-mount or sub-mount protection solution with a bidirectional electrical configuration, the TVS Zener diode provides robust, symmetrical ESD protection and features a very small, cost effective die that can easily be integrated into a broad range of LED lamp modules.
With major advantages of power savings, increased life expectancy and faster response time over traditional bulbs, LEDs are rapidly taking over many applications such as backlighting unit, traffic lights, automotive lighting, camera flash and even standard lighting.
GaN-based LEDs are generally considered Class 1 devices and in many cases, a discharge of only 10 V can destroy such sensitive components. In comparison, static charge of up to 30 kV can be generated quite easily. Studies indicate that ESD/EOS damage to electronics and associated equipment is estimated at over 38%. ESD-damaged LEDs can appear dim, dead, shorted, or have low VF or VBR.
The market for GaN-based LEDs has expanded beyond traditional market segments into a wider range of lighting applications including display backlighting, automotive, signs, and residential and commercial lighting. Market research firm Strategies Unlimited forecasts that the market for LEDs will increase from $28 billion in 2009 to $1,000 billion in 2015, a compound annual growth rate of 24 percent.
Features
• Bidirectional TVS Zener diode configuration for ESD protection
• Typical Vz: ±7, ±12, +7/-14, -7/+14 (Volts)
• ESD protection: >8 kV, Human Body Model (on chip, 180°C), and 30 kV, IEC6100-4-2(in PKG)
• Leakage current: < 0.3 uA (@ 4V, 100°C, for Vz=±7 V)
• Top pad: Au or Al
• Lifetime rating: 20,000 hr (100°C)
• Pb-Free and RoHS compliant
Pricing and Availability
Samples are available with mass production scheduled for Q4 2009. Pricing varies depending on the size of the TVS chip. Samples are priced at $0.01 per unit with a minimum purchase of one wafer. Lead-time is 4 to 8 weeks upon receipt of order and customer's final specifications. These components are produced to the premium quality standards.
About Sigetronics, Inc.
Sigetronics, inc. is a leading venture supplying semiconductor devices for the mobile handset, LED, digital consumer electronics and personal computer markets. Detailed corporate and product information may be accessed at http://www.sigetronics.com
Contact
D.H. Cho Product Marketing Manager, ED Division Sigetronics, Inc. office 82 063.270.4650 mobile l 82 010.2374.3412 fax l 82 010.270.3585
E-mail:dhcho@sigetronics.com
Web Site:www.sigetronics.com