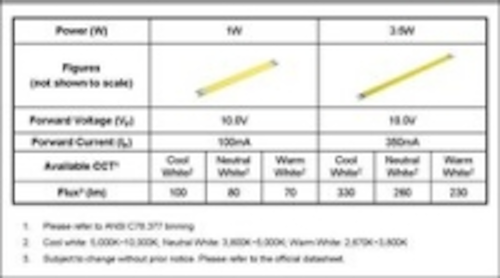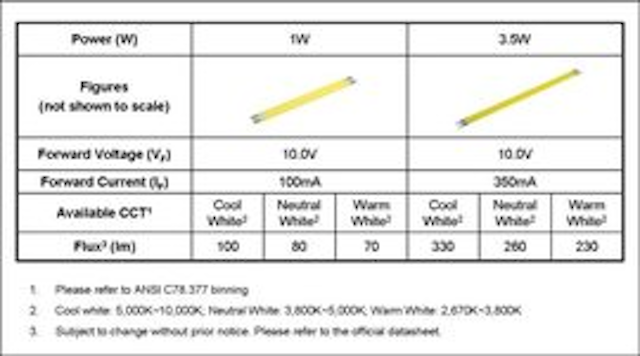 Date Announced: 23 Nov 2009
Through continuous model advancement, Edison Opto has introduced EdiLine III for enhanced adaptability and robustness.
EdiLine III is available in two types of packaging – 1W and 3.5W. The 1W device is measured at 41.25 x 4.0 x 0.8mm, with luminous flux of 100 lumens at cool white; while the 3W device is measured at 95.6 x 5.6 x 0.8mm with luminous flux of 330 lumens at cool white (CCT: 5,000~10,000K).
Features
 Linear Packaging Design
 High Efficiency
 Low Power Consumption
 Long Operating Lifespan
 Easy installation with screws
The linear structure design of EdiLine III results in an easier heat dissipation requirement, making versatile fixtures design possible as well as an overall cost saving benefit.
EdiLine III is the ideal substitute for various lighting applications, such as fluorescent lamp, table lamp, desk light, commercial, and indirect illumination or decorative lighting application.
About Edison Opto
Edison Opto is a leading high power LED manufacturer and a solution provider experienced in optical design and thermal management for the emerging SSL market. With R&D headquarter in Taiwan, production capabilities in Dong Guan, China, as well as distribution network over twenty-six countries, Edison Opto offers a diverse range of high power LED products to worldwide commercial, industrial, retail, and residential markets. For more information, visit www.edison-opto.com.tw.
Contact
Jill Hsu Marketing Planning Specialist Edison Opto Corporation Tel +886 2-8227-6996 Ext.8802 Fax +886 2-8227-6997
E-mail:jillhsu@edison-opto.com.tw
Web Site:www.edison-opto.com.tw