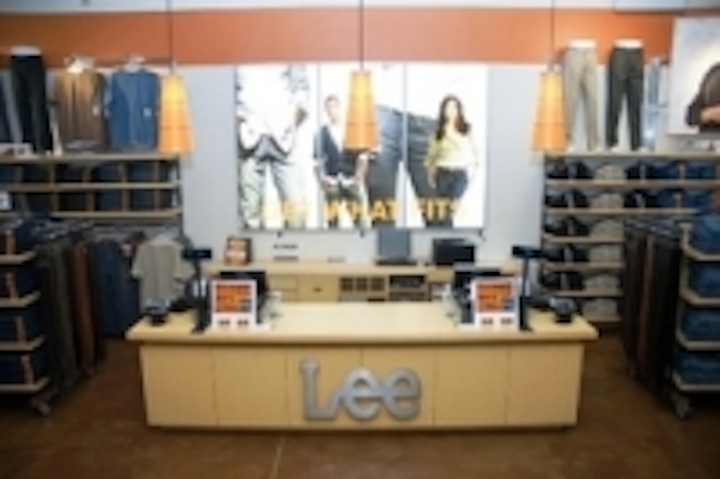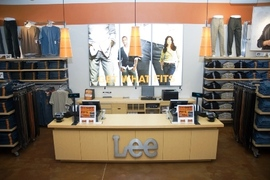 Date Announced: 13 Nov 2009
EcoTek Lighting has installed high performance, energy efficient indoor light boxes with Direct Backlit LED Array technology for Lee® Jeans at the company's Crossings Premium Outlet Store in Tannersville, PA.
Three vertical 36" x 72" vertical backlit LED light boxes are paneled together to form one 108" x 72" spectacular light box display behind the store cash wrap counter.
In addition, EcoTek Lighting installed two double-sided backlit LED logo boxes in each window of the storefront. The white logo is illuminated using opaque black vinyl on Plexiglas, with each LED logo light box measuring 24" x 16". What makes these window Lee® logo light boxes unique is that they are double sided, with back-to-back LED array panels.
Lee Jeans' indoor LED light boxes from EcoTek Lighting:
• Last up to seven times longer than light boxes using T-8 fluorescent lamps.
• Do not radiate infrared heat (IR), reducing building heat load and decreasing air conditioning costs.
• Do not emit ultraviolet (UV) light, which reduces the fading of graphics.
• Do not contain heavy metal pollutants nor toxic and flammable gases to operate, as with fluorescent lamps.
• Do not introduce mercury into landfills, as is the case with improperly disposed of fluorescent lamps.
• Reduce maintenance costs by eliminating fluorescent-lamp replacement since LEDs last for years.
• Can operate in harsh environments and withstand temperatures ranging from -40° F to +185° F. Fluorescent lamps have executable difficulties in cold environments.
LEDs are solid-state light engines that last from 50,000 to 100,000 hours, compared to fluorescent lamps that only last from 8,000 to 20,000 hours. LED illuminated light boxes provide up to 70% greater energy efficiency than fluorescent light boxes, and enable users to qualify for energy and tax rebates. The long life span, reduced maintenance costs and extreme durability of LEDs reduce CO2 emissions, reduce the associated carbon footprint and help protect the environment to ensure a stable climate for future generations. The use of LEDs helps to save the environment and reduce the carbon footprint of the light box. All Direct Backlit LED Array light boxes from EcoTek Lighting meet Federal standards for energy efficiency and Green manufacturing regulations, including UL, CUL and CE listings and European RoHS Standards, and contribute points to LEED-certification. They are fully recyclable at end-of-life, and contain no heavy metals or other hazardous components.
"We are proud to partner with Lee Jeans on these unique and innovative LED light boxes", said Rick Farrell, EcoTek Lighting president. "These brilliant, energy efficient light boxes attract more attention to the storefront windows, and allow Lee Jeans to lower their carbon footprint and demonstrate their commitment to changing the world for the better."
About Lee Jeans
Lee® Jeans is a division of VF Corporation. (NYSE: VFC). Headquartered in Merriam, Kan., Lee manufactures and markets brand denim, casual pants, shirts, fleece and knit apparel. VF Corporation is a global leader in lifestyle apparel with a diverse portfolio of jeanswear, outdoor, imagewear, sportswear and contemporary apparel brands. Its principal brands include Wrangler®, Lee®, Riders®, The North Face®, Vans®, Reef®, Eagle Creek®, Eastpak®, JanSport®, Napapijr®i, Nautica®, Kipling®, John Varvatos®, 7 For All Mankind®, lucy®, Majestic® and Red Kap®. VF Corporation's press releases, annual report and other information can be accessed through the Company's home page, www.vfc.com.
About EcoTek Lighting
EcoTek Lighting is the leading provider of high performance light boxes, menu boards, poster frames and custom LED illuminated displays in the industry. EcoTek Lighting was created with the mission of saving energy and producing Eco-friendly products. Our Direct LED Array Backlighting technology and our Green manufacturing processes significantly contribute to reducing emissions across the entire lifecycle of our products. EcoTek Lighting received a 2009 Harvey Mudd College Green Engineering Certificate of Merit for our energy efficient products at the TechAmerica High-Tech Innovation Awards. EcoTek Lighting is also a finalist for the 2009 Platt International Global Energy Awards in the Rising Star category. For more information, call us at 800-733-6661, or visit: www.EcoTekLighting.com
Contact
Dawna Lee Heising, Director of Marketing EcoTek Lighting 26845 Vista Terrace Lake Forest, CA 92630 800-733-6661 x216
E-mail:dheising@ecoteklighting.com
Web Site:www.ecoteklighting.com