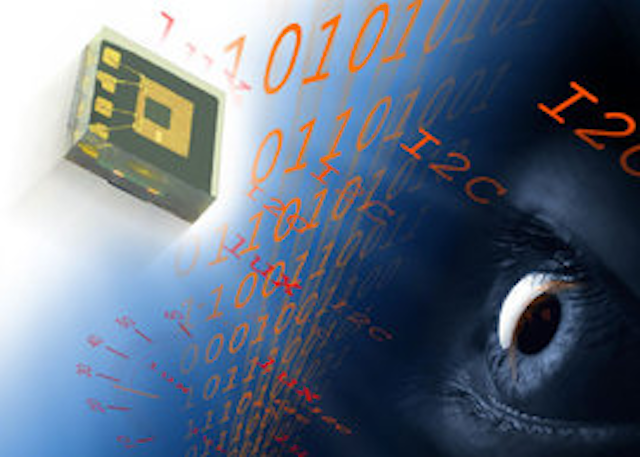 Date Announced: 03 Nov 2009
The SFH 5712 from OSRAM Opto Semiconductors is a low-voltage digital ambient light sensor that converts light intensity to digital signal output capable of direct I2C interface, detecting ambient brightness in the same way the human eye does. It is the only sensor on the market that offers not only standard data rates but also high speed rates of up to 3.4 MHz. An integrated circuit in the sensor automatically provides a measured value between 3 and 65,000 lux twice a second, without the need for any additional control commands. The sensor has only four connections and takes up very little space, measuring just 2 x 2 x 0.7 mm. It can be easily controlled via its integrated I²C interface.
The SFH 5712 is primarily intended for mobile applications in which the brightness of the display is constantly adjusted according to available ambient light. This extends the interval between recharges and therefore improves the service life of the devices. The main beneficiaries are cell phones, PDAs, navigation devices, netbooks, laptops, and media players. Ambient light adjusted brightness also improves readability. A clearly legible display on satellite navigation devices in any ambient light conditions is not just highly convenient, but also an important safety feature.
OSRAM has added the first digital ambient light sensor to its product portfolio so it can now offer just the right sensor for a wide range of requirements and for every area of application. "The benefits of our digital ambient light sensor are obvious," said Dr. Werner Kuhlmann, Development Manager for Silicon Detectors at OSRAM Opto Semiconductors. "The sensor digitally transmits the true lux value so there is no need for complicated formulas to calculate an appropriate value from the output signal. This saves one operation in the application. It is also insensitive to mains-power related 50-60 Hz flickering that is produced, for example, by fluorescent lamps." With 150 µA during operation and only 1.5 µA in stand-by mode, the sensor consumes very little power.
For more information, please contact OSRAM Opto Semiconductors at info@osram-os.com or call
866-993-5211.
ABOUT OSRAM OPTO SEMICONDUCTORS
OSRAM is part of the Industry sector of Siemens and one of the two leading lighting manufacturers in the world. Its subsidiary, OSRAM Opto Semiconductors GmbH in Regensburg (Germany), offers its customers solutions based on semiconductor technology for lighting, sensor and visualization applications. OSRAM Opto Semiconductors has production sites in Regensburg (Germany) and Penang (Malaysia). Its headquarters for North America is in Sunnyvale, CA (USA), and for Asia in Hong Kong. OSRAM Opto Semiconductors also has sales offices throughout the world. In the 2008 fiscal year (to the end of September) OSRAM Opto Semiconductors employed more than 4600 people and achieved sales totaling 529 million euros. For more information go to www.osram-os.com.
Contact
Kate Cleveland OSRAM Opto Semiconductors (248) 277-8018 kate.cleveland@osram-os.com Charles Birkhead Macrovision, Inc. (215) 348-1010 charles@macrovis.com
E-mail:info@osram-os.com
Web Site:www.osram-os.com