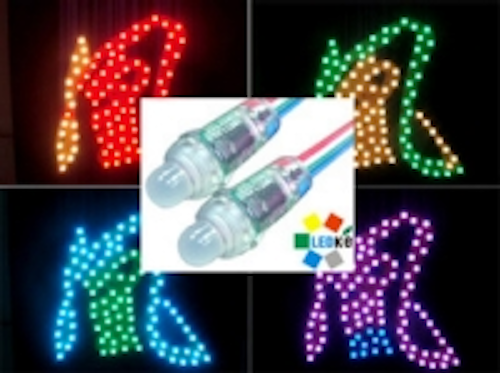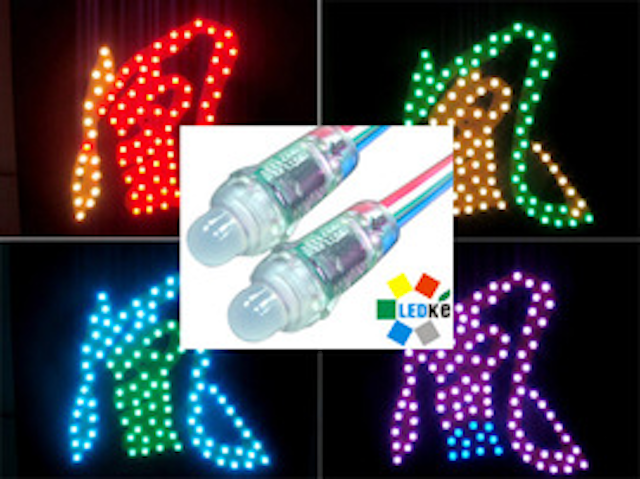 Date Announced: 13 Nov 2009
Shenzhen, China -- LEDKE Technology Co., Ltd an LED lighting supplier, recently introduce an new and smart fullcolor LED dot light. One string light can carry out the effects of: color changing, color jump, color running, color chasing and so on.
Can compose different dynamic effects of different color's character and design. With the features of convenient installation, high luminance, safe and energy conservation, long lifespan and little light attenuation, Maintenance freely etc.
This dot light requests iron letter with punched holes, the diameter of round hole is 12mm. Just insert the dots into the punched holes, it can form any irregular shapes. This light is controlled by the controller with SD card, each controller with max load of 2000 dots.
Each string LED fullcolor dot light have 50 pixels connected by 4 pins wire. The pins with red pin: input DC5V, white pin: GND/-5V, green pin: DAT and blue pin: CLK. Each string start with 3 pins input male connector, end with 3 pins output female connector.
Physical Specifications:
Input Voltage DC 12V
Work Current 0.06A
Work Temperature -45 degree - 65 degree
Controller System SD card
Waterproof Rating IP66
Pixel disposition Red, Green, Blue
Material of Crust Clarity / Creamy White PVC
Punch Holes Size Diameter 12mm
Size of LED light 8mm
Application:
1) Backlight of channel letters and signage.
2) Advertisement decoration.
3) Outdoor guide, nameplate board lights.
4) Indoor lights decoration.
5) Lights for events and shows.
6) Decorations lights for bar, pub, club, disco.
Contact
LEDKE Technology Co., Ltd Tel: 86-0755-27319793 Fax: 86-0755-82949887
E-mail:info@ledke.com
Web Site:www.ledke.com