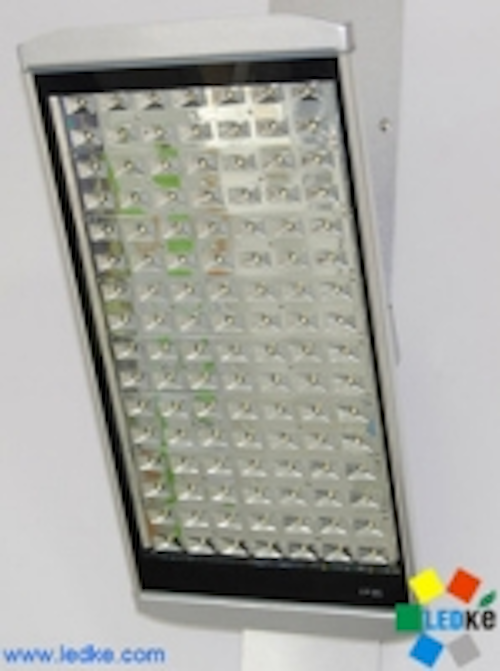 Date Announced: 23 Nov 2009
Recently, LEDKE Technology Co., Ltd introduced a new series of LED street lights, those lights use the imported LED chip as light source, It's an green and environmental protection new lighting. Strictly according to national standards such as: GB7000. 5-2005 "road and street lighting safety requirements" and CJJ45-2006 "city road lighting design standards", also used a number of new technologies:
1) Energy-efficient: Using super-bright white LED light as sources, in line with the company's independent design of high efficiency drives, low power consumption, high efficiency, can save 70% energy than the conventional light.
2) long lifespan: Using a unique design for reducing heating, effectively prevent the temperature rising of LED light source when in working, extending the lifespan, service life of up to 10 years.
3) High light efficiency ratio: Using the Secondary Optics Design of multi-aperture and multi-angle, take full advantage of the high-directional of LED light source, control the light to shoot the required area as much as possible, this increase the light efficiency greatly.
4) Wide scope of application: apply to street scenery complementary systems or solar streetlight system, residential areas, industrial areas, sidewalks, squares, parks, schools, villas, garden and other places.
5) Green lighting and protect Environment: no lead, mercury and other pollution elements are included, no pollution to environment, also it is a cold light source, no heat radiation, no harm to human body.
LEDKE's LED street lights use high-power white LED light as sources, coupled with isolated DC / DC power supply, it's the energy saving LED lighting.
Please visit the following link for more info:
http://www.ledke.com/products/?anclassid=10
Contact
LEDKE Technology Co., Ltd Tel: 86-0755-27319793 Fax: 86-0755-82949887
E-mail:info@ledke.com
Web Site:www.ledke.com