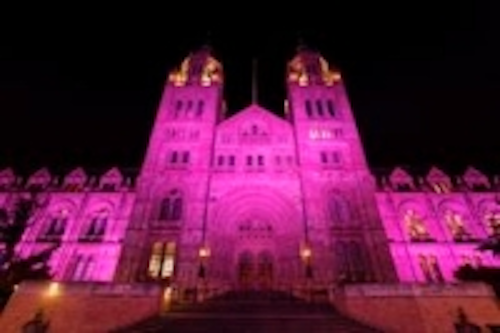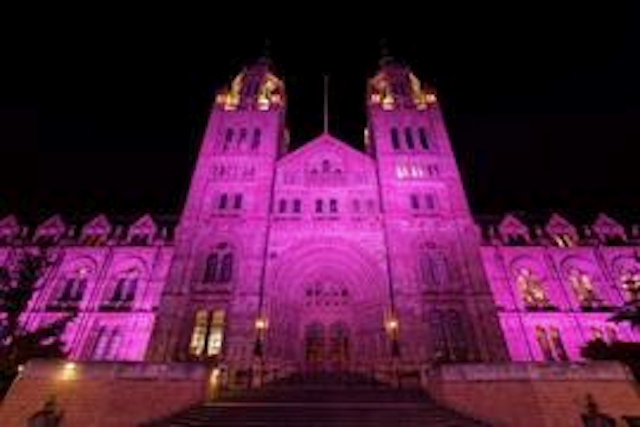 Date Announced: 27 Nov 2009
AECOM and Royal Philips Electronics and have designed a ground breaking LED lighting solution for London's world famous Natural History Museum.
Replacing the aging floodlight system, Philips state-of- the art ColorReach™ Powercore technology demonstrates the flexibility and unprecedented light output of LED exterior floodlighting for signature façades today. Combine this with its unparalleled light projection of up to 500 feet, and it is easy to see why ColorReach™ Powercore was the ideal choice to illuminate this beautiful structure.
Visitors to the Natural History Museum cannot fail to be impressed by the grand entrance and rounded arch of one of Britain's most striking examples of Romanesque architecture. Named after the architect who designed it, The Waterhouse Building's rounded arches and grand entrance takes inspiration from the natural beauty of Fingal's Cave in Scotland. The magnificence of the structure at night, however, was not being optimised by the existing lighting solution, which used inefficient metal halide floodlights. Switching to an LED alternative offered multiple benefits including benefitting from significantly lower annual running costs, as well as the opportunity to truly bring out the aesthetic quality of the building.
For general use a white LED setting has been used to complement the colour and textural qualities of the grey and terracotta stone details. The programmability of ColorReach™ also means that flexible ambiances can be created to reflect the season, special dates or corporate events, providing added drama and movement via a myriad of colour variations. All this is easily achieved by wireless programming system with a remote controller which the Natural History Museum's events team can operate simply and effectively for evening events.
Ultilising the existing fixing positions, in all, just 32 ColorReach™ projectors were needed - half the number of the former metal halide floodlights – to light up the broad sweep of the arched entrance and flanking walls.
As Glynnan Barham, energy manager for the Natural History Museum states, "We were quickly won over by ColorReach's superb projection capability and flexibility. More than this however, the Natural History Museum is focused on minimising its emissions through all activities and one of the key areas that we can achieve this is through our lighting. What impressed us was the dramatic impact we could make to our energy and maintenance costs compared with the traditional light sources we had been using. "
Indeed, the total electrical load has been reduced by 75% in normal operation. Added to this, LEDs are virtually maintenance free and have a useful life of approximately 50,000 hours. This means that the Museum will not need to replace the LED modules for at least 30 years under normal usage conditions. This compares with an average of 3 years for conventional metal halide lamps.
Overall, calculations show that the install cost of the LED solution would have a payback of just 4 years with accumulative savings year on year thereafter.
Without doubt, Philips ColorReach™ Powercore has given the Natural History Museum even greater scope to integrate stunning lighting effects within its architectural environment and, in so doing, brings even greater pleasure and enjoyment to its millions of visitors each year.
As Martin Valentine, Head of AECOM's Lighting Group, said, "The Waterhouse Building is one of the most iconic and beautiful buildings in Britain, and we are delighted to have the opportunity to create a lighting design that will make it even more visually stunning."
Contact
Philips Lighting The Philips Centre, Guildford Business Park, Guildford, Surrey GU2 8XH
E-mail:lighting.uk@philips.com
Web Site:www.philips.co.uk