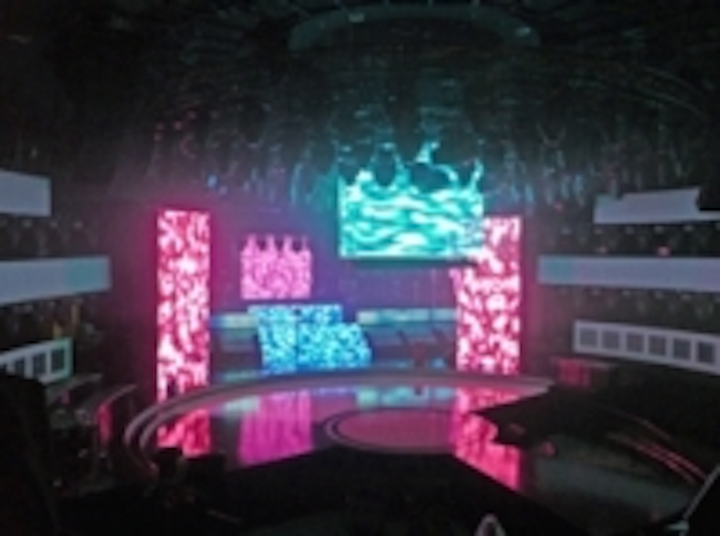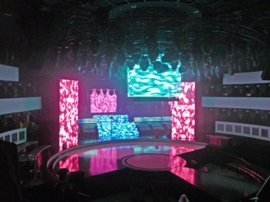 Date Announced: 08 Jan 2009
Serbia – 6th January 09 - Operacija Trijumf is one of Serbia's most popular television shows, combining a singing talent contest with Big Brother-style behind-the-scenes footage of the contestants in their shared house. Forming a stunning backdrop on the stage during the contestants' performances, Lighthouse R10i/o 10mm LED panels ensure that audiences have really been taking notice of the programme's first season.
66 panels of R10i/o LED panels were purchased by Operacija Trijumf production company Emotion Production and formed four screens on the stage: a pair of portrait format screens, each three panels wide by five high (1.92m (w) x 4.8m (h)), flank a six panels wide by four high (3.84m (w) x 3.84m (h)) central rear screen.
Beneath the rear screen, the remainder of the panels are used to face a three dimensional staircase, which gives a very different dimension to the look of the stage.
"We choose the R10 panels partly on recommendation and partly because the only other LED screens currently in the region are 19mm pixel pitch," says Aleksandar Miljus of Emotion Production.
"We want to offer more versatile LED panels to the region and, after this series of Operacija Trijumf, we will be able to use the 10mm panels on a wide range of indoor and outdoor events. We will be the first company in the region to offer such flexible LED screen options."
To achieve this, Emotion Production is setting up a dedicated department specifically to manage the hire of the panels. But for the moment, Operacija Trijumf is the focus and Aleksandar is very pleased with how they are performing. Together with a Lighthouse LIP-HD high definition processor, the LED screen is really making an impact on the show's audience.
"The images are very bright and clear," he says. "It is the first series of Operacija Trijumf in Serbia so we need something to really deliver the goods and amaze the audience. The R10 panels have achieved that and are also very reliable and straightforward to use."
"We're proud to provide Emotion Production with these screens and to be contributing to what we are sure will be a very successful first series of the show," says Andrea Greguoldo, Lighthouse's sales manager for Eastern Europe. "The staircase adds an extra dimension to the set and demonstrates the versatility of Lighthouse LED screen."
~END~
Lighthouse Technologies Limited is a leading LED technology developer, manufacturer and global supplier of state-of-the-art LED modular video panels, which can be assembled into large scale video screens for indoor and outdoor use. It also produces a range of creative video solutions that have a multitude of applications.
Specializing in the research and manufacture of LED products, Lighthouse has its own intellectual properties with a remarkable number of active patents worldwide and is committed to remaining the premier creator of intellectual property values.
The company's LED components, panels and complete video systems undergo stringent quality control with power-on, burn-in processes at ISO9001 and ISO14001-certified manufacturing plants.
From the company's inception, Lighthouse products have won numerous international awards, from the prestigious Consumer Product Design Award and the HKITCC Certificate of Merit in Technological Achievement in the 1999 Hong Kong Awards for Industry, to Buzz of the Show award at InfoComm 2004 in Atlanta and 2005 IBC Exhibition Design Award. Lighthouse was selected as a Top 100 Global Award Winner by Red Herring Magazine in 2007.
Lighthouse operates on a global basis. It has sales offices and technical support teams in the United States, South America, the United Kingdom, Continental Europe, the Greater China and Asia Pacific.
Contact
Sarah James Gasoline Media sarahj@gasolinemedia.com
E-mail:info@lighthouse-tech.com
Web Site:www.lighthouse-tech.com