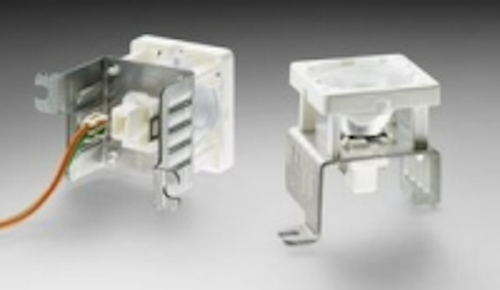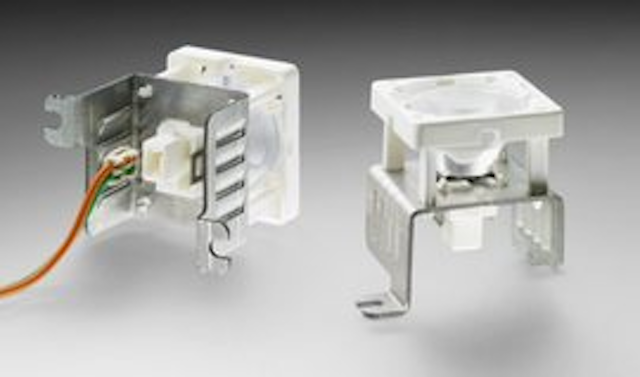 Date Announced: 22 Jan 2009
-- Combines Interconnection and Thermal Management for Solderless LED Holders
HARRISBURG, Pa. –– A new holder for high-power LEDs simplifies their application by providing both thermal management and a solderless interconnection.
Designed specifically for Solderless High Intensity LEDs, widely used in architectural, commercial or residential lighting, the LED holder provides a small footprint and low profile with a snap-together contact system for both direct electrical and thermal connections to the LED.
Without the need for solder, thermal adhesives, or printed circuit metal-clad boards, application is simple and cost effective. Plus, repair or replacement of the LED is equally straightforward.
The basic holder kit includes a contact carrier and an LED retention clip used to secure the LED to the carrier. The module-to-cable interface is a standard two-position Mini CT receptacle. Options include:
• Aluminum or copper alloy heat sink with slots for attaching it to the lighting fixture,
• A snap-in lens carrier adapter for Carclo lenses
• Cable assemblies terminated with Mini CT plug connectors for quick connection to the holder
• LED drivers (custom designs available for DC or AC input upon request)
The holder is rated for operating currents of 350 mA to 1500 mA and voltages up to 50 VDC. With the optional heat sink, the holder works with LEDs rated to 1 W. The holder meets the requirements of UL8750 for LED lighting sources.
For more information on Tyco Electronics Solderless High-Intensity LED Holders, contact Tyco Electronics' Product Information Center at 800-522-6752, or send email to newproducts@tycoelectronics.com.
ABOUT TYCO ELECTRONICS
Tyco Electronics Ltd. is a leading global provider of engineered electronic components, network solutions, undersea telecommunication systems and wireless systems, with 2008 sales of $14.8 billion to customers in more than 150 countries. We design, manufacture and market products for customers in industries from automotive, appliance and aerospace and defense to telecommunications, computers and consumer electronics. With nearly 8,000 engineers and worldwide manufacturing, sales and customer service capabilities, Tyco Electronics' commitment is our customers' advantage. More information on Tyco Electronics can be found at http://www.tycoelectronics.com/.
Contact
Tel. 800-522-6752
E-mail:ahunt@tycoelectronics.com
Web Site:www.tycoelectronics.com