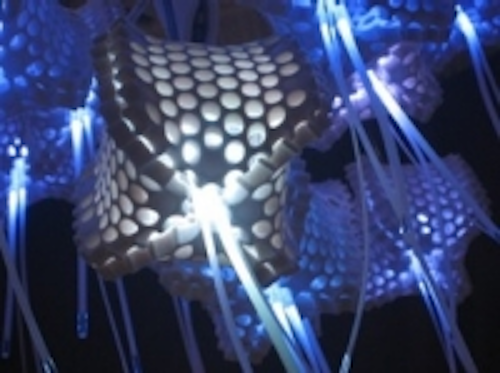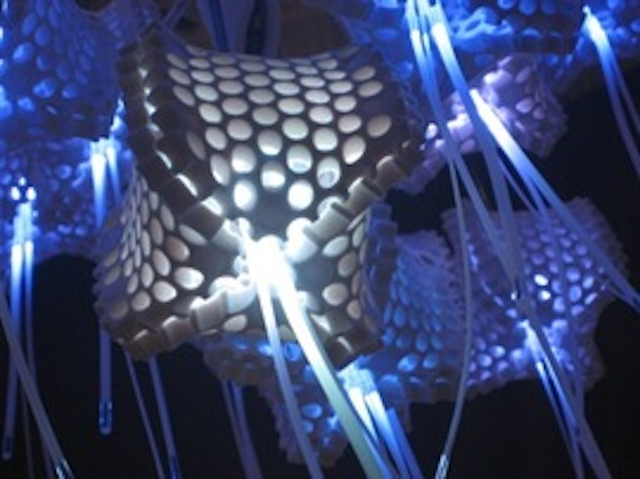 Date Announced: 22 Jan 2009
Unusual fish-shaped LED luminaires developed by Toronto-based Lumolar can shift from looking like Chinese lanterns to changing colors like the aurora borealis, with the help of LED solutions support provided by Future Lighting Solutions.

Engineers from Future Lighting Solutions guided development of the custom color-mixing application that drives the award-winning RGB fixtures, which are built with LUXEON® Rebel LEDs.


Lumolar's 'Baby Fish Tide' luminaires resemble tropical fish lit from the inside. They are made out of naturally fire-retardant industrial felt with holes stamped out of the fabric, utilize Cypress Semiconductor's EZ-Color controller as their RGB color-mixing platform, and come with a master board that can control up to 90 fixtures as well as software for designing light sequences utilizing a drag-and-drop GUI.


Future Lighting Solutions assisted Lumolar in executing the lighting portion of the project, including pairing the company with an engineering firm to build the board and color-changing system, steering that firm to the Cypress controller and training the developers on the Cypress system, providing tools to measure light output, and offering ongoing engineering advice throughout the development process.


The fixtures have received an Award of Excellence from the Ontario Association of Architects, a Best of Canada 2008 award from Canadian Interiors Magazine, and a Design Exchange Award 2008 from the Toronto Design Exchange.


A detailed case study is available at www.futurelightingsolutions.com/media_center/case_studies.asp.
Contact
Heather Goldsmith Future Lighting Solutions
E-mail:heather.goldsmith@futureelectronics.com
Web Site:www.FutureLightingSolutions.com