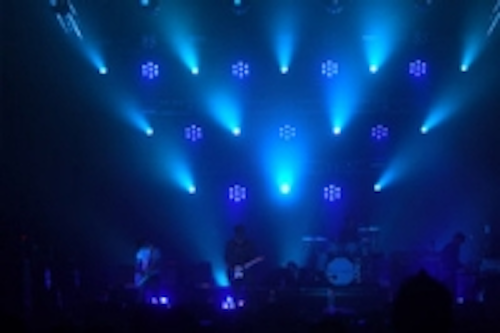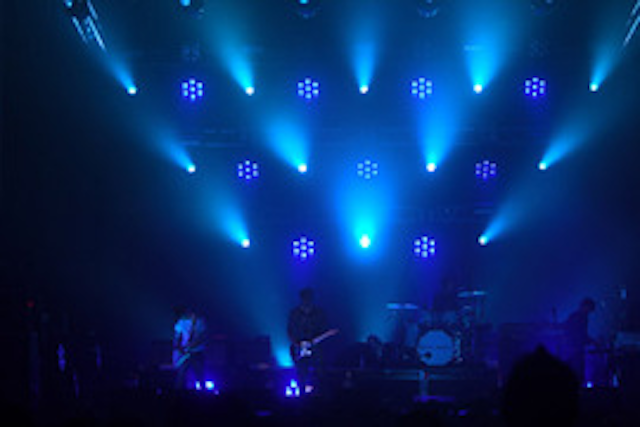 Date Announced: 29 Jan 2009
Lighting designer Leggy (Jonathan Armstrong) is using 21 i-Pix BB7 LED wash lights and 19 i-Pix BB4 blinders on his new design for Bloc Party's "Intimacy" world tour which has just kicked off in Glasgow, UK at the weekend.
It's the first time he's used either fixture on one of his shows, a decision taken after seeing them in action on several others, which prompted him to think that they were exactly what he needed.
"I wanted to keep everything soft edged in keeping with the 'intimacy' theme, so I decided to go for an LED-based rig and use the BB7s as the main stage wash light. I knew they were bright but I have been really astounded by just how bright, and how efficiently and easily they can cover the whole stage," he declares.
There are four BB7s a side for front and stage washes and 4 on the floor behind each musician, for silhouetting and other stark, dramatic effects.
The remaining nine BB7s are arranged on an inverted triangle on the back 3 trusses - normally a main truss with 2 sub hangs. This configuration will also be ideal to use as 'specials' when they go into the festival section of the tour later in the year.
Fifteen of the BB4s are positioned on the floor in a straight run across the back of stage, used for a high-impact wall-of-light effect, with the other 4 used as footlights across the front of stage.
"This gives me the option of lighting entire songs just with LEDs," says Leggy.
The rig also contains Studio Beam moving lights, Source Four profiles, 4-lites, strobes and 4 floor PARs, but it's the BBs that are easily the most noticeable and hard-working out of the whole rig.
Leggy really likes the color range of the BB7s, particularly the pastel and more off-beat shades and hues. He used a lot of these on Bloc Party, whose rocky urban sound is ideally suited to starker and purer single colour looks or very simple colour combinations.
"I can get a massive variety of effects from the BBs," he enthuses, "Very impressive". He also appreciates the quality of the light and the homogenization of the fixture, which eliminates the LED point sources being visible - a detail i-Pix has always sought to address from a design element, which also enables the BBs to appear like an incandescent source rather than a fragmented LED.
Using the Effects Engine of his Hog 3 console, he can also get some mega funky chases going around the 7 individual cells of the BB7, and these are particularly effective due to their distinctive spherical shape.
Bloc Party is scheduled to be touring and performing live throughout 2009. The kit for the UK is being supplied by Neg Earth, and Leggy is working with crew mates Gus Kidd-Stanton and Craig Lewis.
Contact
Louise Stickland +44 (0)7831 329888 i-Pix direct: +44 (0)161 443 4140
E-mail:louise@loosplat.com
Web Site:www.i-pix.uk.com