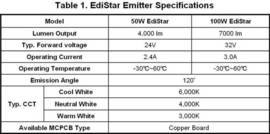 Date Announced: 22 Jan 2009
With the advancing adaptation of LED application in signage, mobile, backlighting and general lighting, Edison Opto continues to exceed industry expectation and introduces 100W EdiStar series into its ultra high power product line.
With lumen efficacy up to 80lm/W, EdiStar delivers 4,000lm at 50W and 7,000lm at 100W EdiStar's patented design combining refined material and proprietary packaging process facilitate the high luminous performance and reliability of the product.
For easy installation, EdiStar emitter comes with a copper board specifically designed for saving the time and cost associated with the layout and material of MCPCB.
EdiStar is available in choice of 50W and 100W package. The specifications are outlined in the Table.
With Taiwan government sponsorship, EdiStar was developed and has been widely incorporated in application such as outdoor architectural and flood lighting, open area lighting, high bay fixture for warehouse and street lighting.
About Edison Opto
Edison Opto is a leading high power LED manufacturer and a solution provider experienced in optical design and thermal management for the emerging SSL market. With R&D headquarter in Taiwan, as well as distribution network over twenty-six countries, Edison Opto offers a diverse range of high power LED products to worldwide commercial, industrial, retail, and residential markets.
Contact
Jill Hsu, Marketing Planning Specialist Edison Opto Corporation Tel +886 2-8227-6996 Ext.8802 Fax +886 2-8227-6997
E-mail:jillhsu@edison-opto.com.tw
Web Site:www.edison-opto.com.tw