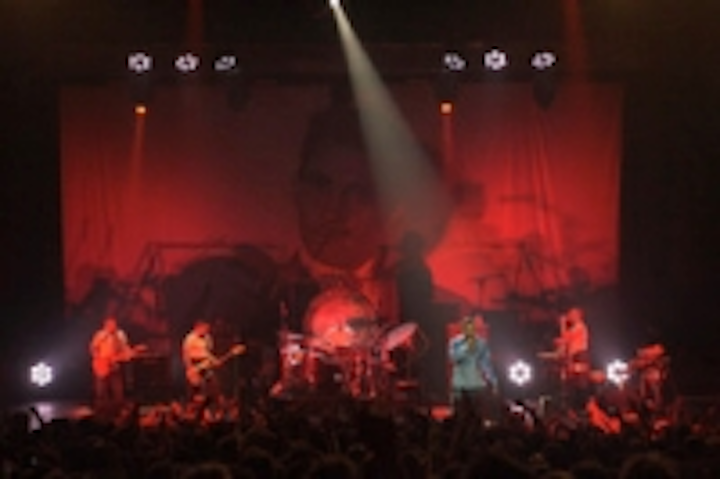 Date Announced: 11 Aug 2009
Lighting designer Max Conwell of Naked Eye has been using 12 i-Pix BB7 beam lights for Morrissey's 2009 "Tour of Refusal".
It's the first time he's incorporated these fixtures into one of his touring designs - after initially using them to light the top of the "Gherkin" office building in central London, where the only available power supply was two 13 amp sockets!
For Morrissey, he specifically wanted to introduce different dynamics to the stage with the quality and feel of the BB7 light output.
The starting point for his design was the backdrop and it's very distinct artwork - a carefully considered decision by Morrissey - featuring a charismatic snapshot of Italian 1960s actor, Walter Chiari.
Also factored into the design was the eclectic variety of venues - ranging from 700 to 7000 capacity - so he needed very adaptable kit.
The new album has plenty of "attack", explains Conwell, saying that the BB7s are well suited for helping to create this generally combative aura. He used them to provide a totally contrasting visual texturing from the moving lights, and extensively as a major secondary lightsource on his minimalist rig which tastefully embraced the ethics of 'small is beautiful'.
Six of the BB7s were rigged overhead on the back truss and the other 6 positioned on the floor, upstage of the band, providing powerful backlight.
Like many, he really appreciates the fact that the i-Pix resemble and behave like an incandescent source rather than an LED. All the blockiness and pixellation traditionally associated with LED fixtures is eliminated with the use of i-Pix' very special light engine which homogenizes the source.
"That, and the fact that you can strobe and chase them, exactly as you would a classic lightsource - so they are extremely versatile" he states.
In the UK the equipment was supplied by Neg Earth, and in the US by Epic Productions from LA, who purchased the BB7s for the tour.
Conwell reports that the fixtures have been 100% reliable on the road, and a real "life saver" for the smaller venues on the itinerary. He was generally able to squeeze his BB's in "anywhere", allowing him to still replicate the show without the moving lights whilst avoiding cooking the band on smaller stages!
He operated the show using a grandMA full size console.
Contact
For more info on i-Pix, please call Louise Stickland on +44 (0)7831 329888 or +44 (0)1865 202679 or Email louise@loosplat.com. Call i-Pix direct on +44 (0)161 443 4140 or check : www.i-pix.uk.com
E-mail:louise@loosplat.com
Web Site:www.i-pix.uk.com