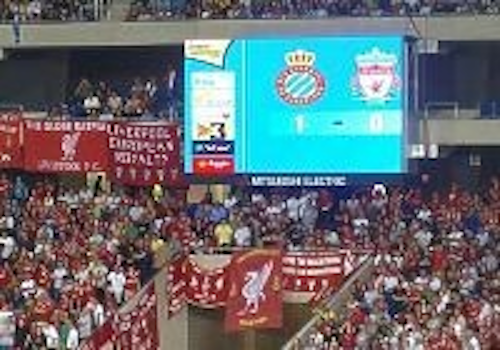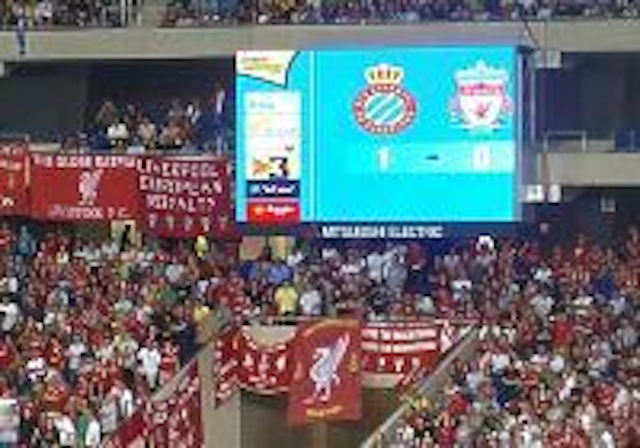 Date Announced: 04 Aug 2009
Barcelona's RCD Espanyol football club hosted the first game in its new, purpose-built stadium in Cornellà-El Prat on August 2nd. Two 7.6 x 4.3 metre Diamond Vision screens and more than 90 Mitsubishi Electric LCD displays help maximise enjoyment for visitors to Spain's most modern sporting venue.
LED and LCD displays supplied by Mitsubishi Electric are a central feature of the stunning new facility, rated as a four-star venue by UEFA. Two Mitsubishi Electric Diamond Vision screens overlook the 40,000 seat stadium, while a network of over 90 large screen LCDs installed throughout the complex ensure visitors are kept entertained and informed wherever they happen to be.
Installed in opposite corners of the ground, the Diamond Vision ODQ15 screens are 7.68 m wide x 4.32 m high, delivering a resolution of 512 x 218 pixels at 15 mm pixel pitch. The Diamond Vision's 5,000 cd/m² light output and wide viewing angles ensure fans get a clear view of the action wherever they are sitting, with true colours and clean whites – essential for both sports teams and advertisers.
Both screens are controlled using Mitsubishi's XDC-4000 processor which manages all the screen content. The processor accepts DVI, SD-SDI and HD-SDI inputs and has a built-in "picture-in-picture" facility enabling the screens to show more than one video signal simultaneously. XDC-4000 was specifically designed to cover the display requirements of sports venues and features state-of-the-art image processing for the highest possible clarity.
As well as being one of the finest football arenas in Europe, Cornellà-El Prat is also one of the most innovative. Solar cells built into the roof can deliver up to 500 kW of pollution-free power and the whole stadium has been designed for maximum energy efficiency. Mitsubishi Electric LED screens automatically adjust their power output to suit the prevailing light conditions, and sophisticated internal monitoring ensures optimum operating efficiency is maintained. Extremely high build-quality help ensure Mitsubishi LED screens achieve a long operating life, reducing cost of ownership and the need for premature refurbishment.
Mitsubishi Electric also supplied the LCD screens used throughout the stadium's retail and hospitality areas as well as corporate facilities and a museum. A total of 70 Mitsubishi Electric 32" LDT322V displays and 20 42" LDT421V2 units were installed in private boxes, VIP suites and meeting rooms, with additional displays used in the public areas and entrance foyers. The Mitsubishi displays add extra flexibility to the meeting room facilities, allowing them to be used for conferences or presentations on non-match days. Remote management of the displays allows different content to be routed to different areas of the stadium, or multiple inputs to be displayed on individual monitors via their built-in picture-in-picture feature.
Diamond Vision is perhaps the best-known big-screen technology in the world; its global customer list includes many of the world's most prestigious sporting venues, most notably the recently-opened New York Yankees and Dallas Cowboys landmark stadiums. Along with its world-class Diamond Vision family of LED displays, Mitsubishi Electric offers a range of professional-grade LCDs from 32" to 65" designed to meet the needs of applications such as digital signage that demand reliability, performance and low cost of ownership.
Contact
Ralph Shephard European Marketing Manager- Visual Information Systems Mitsubishi Electric Europe B.V. Travellers Lane, Hatfield, Hertfordshire, AL10 8XB, England Tel: +44 (0) 1707 276100 Fax: +44 (0) 1707 278541
E-mail:mitsubishi@eido-pr.eu
Web Site:www.mitsubishidisplayengineering.com