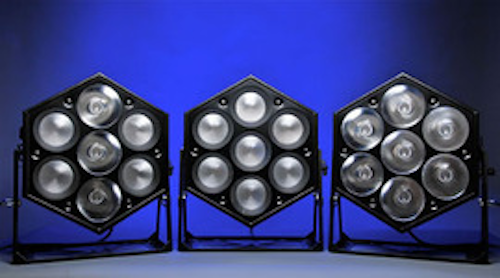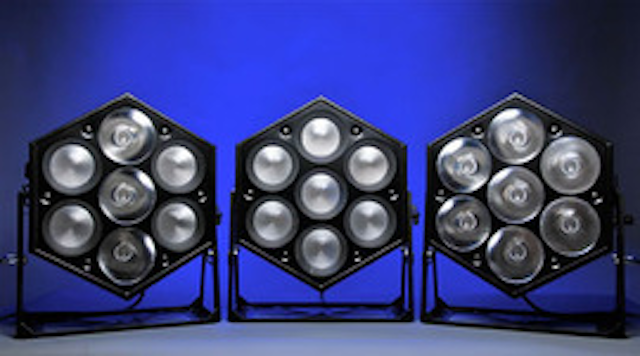 Date Announced: 04 Aug 2009
Specialist UK LED manufacturer i-Pix launches a new version of its phenomenally successful BB7 LED luminaire - with wider angles than the original 10 degree BB7 Beam Light fixture developed last year.
The new BB7 optics offer a 10 (spot), a 20 degree and a 35 degree (flood) angle - in one fixture.
i-Pix has once again listened to the requests of lighting designers and operators to deliver a robustly built, highly tourable, environmentally conscious design-led product.
The 3 different BB7 beam angles now available are all homogenized without any colour striation within the beam. This eliminates the 'pixelation' and blocky effects associated with more 'standard' LED products, and is a feature that is central to the whole i-Pix BB range.
A new 'fast changeover' arrangement enables users and technicians to swap between BB7 optics in approximately a minute. For floor-mounting, an optional freestanding yoke is now also available for all BB7 units - attachable quickly and easily without the need for any tools.
Each BB7 unit draws just 0.9 amps on full at 210 Watts (240 volts) with the further option of combined or individual control of each of the 7 RGB cells or pixels. This allows the creation of some truly funky chase effects, and each cell is also powerful enough on its own to be used in similar fashion to a PAR type lightsource.
i-Pix' custom LED light engines provide unique colour control. This gives quick, easy and accurate creation of the full range of tungsten and daylight colour temperatures, plus millions of other hues - including pastels, along with more abstract and idiosyncratic options like 'salmon', 'olive', 'chocolate', etc.
For maximum flexibility, BB7s can be operated in 'Stand alone mode or DMX driven. With the increased versatility of having a spot/beam/flood LED fixture, hire companies and lighting designers can easily customise BB7 optical configurations to have split beam narrow and wide fixtures within one housing. Existing BB7 users can also update their fixtures to incorporate this new and dynamic optical design.
The new BB7 is shipping now. The first fixtures were delivered to leading UK rental operation Neg Earth, and used as part of the 'house' lighting rig for the main Pyramid Stage at the 2009 Glastonbury Festival and more recently the main stage at T in the Park 2009.
Contact
For more info on i-Pix, please call Louise Stickland on +44 (0)7831 329888 or +44 (0)1865 202679 or Email louise@loosplat.com. Call i-Pix direct on +44 (0)161 443 4140 or check : www.i-pix.uk.com
E-mail:louise@loosplat.com
Web Site:www.i-pix.uk.com