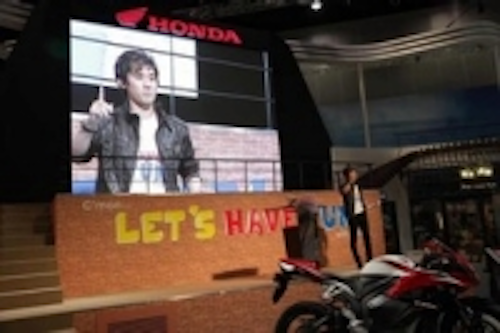 Date Announced: 04 Aug 2009
JM Rental Ltd, one of the largest LED display rental companies in Asia, was chosen to supply the LED screen requirements for four of the world's highest profile motor manufacturers at the 30th Bangkok International Motor Show, held between 26th March and 6th April 2009 by PM Center Co., Ltd. (Thailand), the show official contractor.
Attracting around 1.6 million visitors, the Bangkok International Motor Show is one of the highest profile motor trade events in Asia. With 130 exhibitors from 111 different countries attending, the event brings together a diverse array of production and concept cars, motorcycles, commercial and rough terrain vehicles, parts and accessories.
Because the show is on such a large scale, being able to stand out from the crowd is essential for any exhibitor to gain maximum benefit from the 12-day event. To achieve this, four globally renowned Japanese motor manufacturers - Honda, Nissan, Mitsubishi, and Suzuki – commissioned the official contractor of the Bangkok International Motor Show 2009, PM Center Co., Ltd. (Thailand), to give full service of the equipment rental of Truss System, Lighting,, Audio-Visual together with LED Screen with the technologies of Lighthouse LED Screen for rental event by joining JM Rental to supply eye-catching visual elements for their booths together.
It is JM Rental's strong presence in the Asia Pacific region, borne of its reputation as a superior quality provider of world-class LED screens, which has given such high profile, global brands the complete confidence to entrust it with delivering their core visual messages at such an important event.
"This is the first time that JM Rental has supported or even work with the event equipment rental company in Thailand," explains JM Rental Operations Director Kenneth Yip. "The Bangkok Motor Show is a big event in Thailand and indeed for Asia as a whole and it is a great opportunity for us to join PM Center who has the largest market share in event equipment rental in Thailand especially in the Bangkok International Motor Show "
"The Show was very impressive and great successful with this superb Lighthouse R4 panels. We select the best choices of R4 screen providing the necessary high quality visual enhancement though this R4 panel is the first landing in our region," adds Ms Suree Kunawong, Managing Director of PM Center Co., Ltd. (Thailand).
A total of five screens were provided, all comprising Lighthouse LED panels. The Honda motorcycles, Mitsubishi and Suzuki stands all featured R4-S 4mm pixel pitch screens, each measuring, 8 x 8 (5.12m wide x 3.84m high), 5 x 5 (3.2m wide x 2.4m high) and 6 x 6 (3.84m wide x 2.88m high) respectively.
Meanwhile, R6-S 6mm pixel pitch screens were featured at the Honda cars and Nissan booths, respectively sized at 6 x 6 panels (3.84m wide x 2.88m high) and 10 x 5 (6.4m wide x 2.4m high).
"The Show is an extremely important event for motor manufacturers the world over and it is vital for each company that they communicate their message as clearly and effectively as possible," says Mr Yip. "This event has quality at its core and demonstrates how some of the world's most famous brands have complete confidence in our delivery of a high quality service.
"The motor industry is always fiercely competitive, even more so in the current times of financial uncertainty, so we are very pleased to have been able to work together with PM Center who is the show official contractor and the main equipment rental supplier of four of the world's leading automotive brands by supplying the ultimate visual solution to provide maximum impact to their promotional messages."
###
About PM Center Co., Ltd. (Thailand)
The event management rental company in Thailand who provides turn-keys service of the event production equipment for rental with wide-ranges of products, lighting, audio-visual, trussing system, LED Screen. PM Center Co., Ltd. has been established since 1990 and known as The Best Event Management Supply Center in Thailand with international standard. PM Center Co., Ltd. (Thailand) now becomes the exclusive LED rental distributor of JM Rental for R4 and R6 in Thailand.
About JM Rental Ltd.
Established in 1997, JM Rental Ltd. is one of the largest LED display rental companies in Asia. Over the years, we have established a team of visual professionals that can manage projects of any scale, and a network of global rental partners to support thousands of events and programs around the world. We endlessly invest in the best resources to support our worldwide AV partners, including the acquisition of 1,000 pieces R16 and an additional 1,000 pieces of R4 panels in 2008, and almost 1,000 R7 panels, which are due for delivery in the summer of 2009.
'Perfecting vision' is our core mission. We distinguish ourselves with our inventory of renowned and reliable LED screens that deliver state-of-the-art visual excellence, together with a range of professional services which includes creating special motion graphics, animation, visual and lighting effects, managing and directing audio-visual synchronization technology, to create sparkles for any event.
More than just a technology partner, we provide one-stop total visual solution from consultation, hardware installation, system integration and on-site technical support to video production, to ensure the intended visual solution is delivered effectively and visually to the audience.
Contact
Hilda Cheung Tel: +852 27330997 Fax: +852 27234300 Email: hildacheung@joinmerit.com
E-mail:info@joinmerit.com
Web Site:www.joinmerit.com