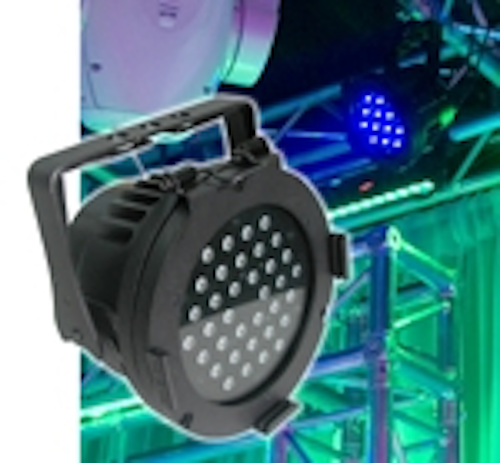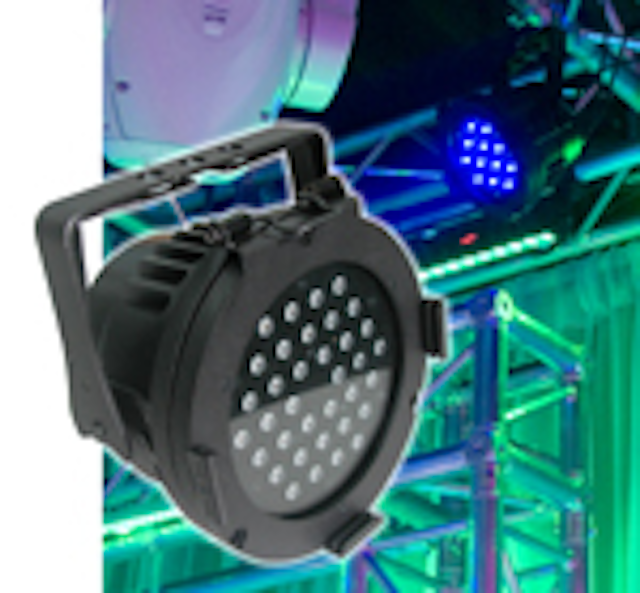 Date Announced: 25 Mar 2009
LOS ANGELES -- Acclaim Lighting's Rebel Pro Par is a rebel with a cause. Make that causes – plural -- because this innovative high-power, compact RGB color-mixing LED par can will bring a revolution in lighting wherever it's used . . . and that can be virtually anywhere.
Thanks to a ruggedly constructed IP65-rated aluminum diecast case that protects against the elements, the Rebel Pro Par is suitable for a wide range of applications, indoors or out.
Powered by 36 high-output Rebel™ RGB LEDs (also available in Cool White and Warm White LED models), it provides extremely high luminous efficiency in a compact, lightweight case design, making it ideal for both the production and installation markets.
Small enough to fit in standard 12" truss, the versatile Rebel Pro Par can even be used as a truss warmer onstage. What's more, advanced LED driver circuitry allows for completely flicker-free operation and dimming, which, combined with the Rebel Par Pro's totally silent operation, makes it perfect for TV/film production use, too.
Whatever application it's used for, the Rebel Pro Par's 12 red, 12 green and 12 blue Rebel LEDs will provide a spectrum of dazzling colors that's virtually infinite, with special designed optics that produce a very smooth and even effect. Over 16.7 million rich colors can be created via RGB color-mixing using a DMX controller.
Operators can also call up colors without DMX in Auto or Manual Mode, using a convenient 4-digit LED menu display on the rear of the unit that gives independent control over RGB intensity.
Featuring a 25° beam angle, the Rebel Pro Par casts perfectly uniform light beams, with no distractive chromatic separation effects.
"Every feature of the Rebel Pro Par is quality and user driven – from its state-of-the-art LED driver circuitry to its high-performance Rebel LEDs," said Eric Loader, director of sales for Acclaim Lighting. "Then when you put that together with its compact size and diecast IP-rated protective case, you see what a truly innovative, versatile light it is. The Rebel Par Pro can go virtually anywhere and provide a solution for any type of lighting application where color is needed."
A CE and CSA certified fixture, the Rebel Par Pro offers operators fine control over color temperature as well as an auto temperature regulator for thermal protection. It can be operated in temperatures ranging from -10°C to +50°C.
The Rebel Pro Par comes with convenient attached 5-pin 3' DMX cables, as well as an adjustable dual hanging bracket that allows for either hanging or floor mounting. Its aluminum case is coated with a black powder finish to provide added protection and durability. An auto switching internal power supply 100-240V is included.
Measuring just 10.5" x 8.7" x 7.1", the Rebel Pro Par is compact enough to fit into the tightest of spaces, and it weighs just 11 lbs. The MSRP of the Rebel Pro Par is $999.95.
Contact
For more information, contact Acclaim Lighting at 323-317-9800 or visit
E-mail:etco@ritelites.com
Web Site:www.acclaimlighting.com