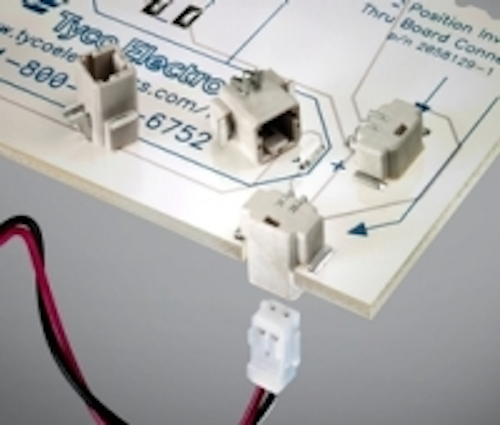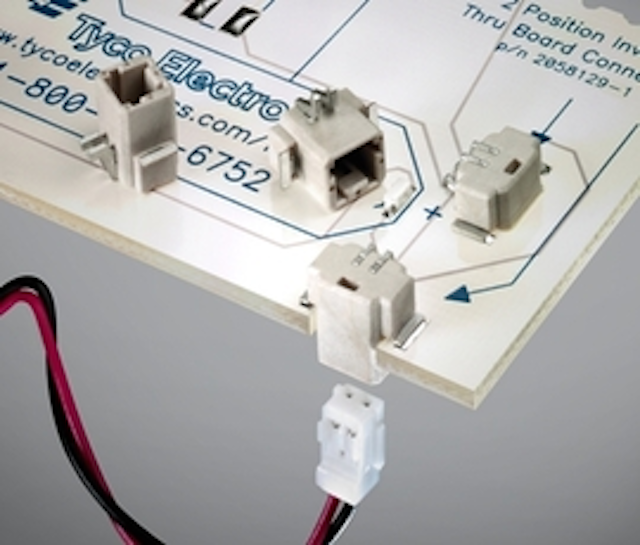 Date Announced: 16 Mar 2009
HARRISBURG, Pa. – March 13, 2009 –The SMT thru-board connector provides a means to bring power from the underside of an FR4 or aluminum-clad pc board, eliminating issues of dressing wires on the top side of LED boards. The 2-position through 6-position connector surface-mounts on the top of the board, passing through the board to present an underside interface. The connector mates with standard Mini CT connectors. The inverted design allows simpler assembly and installation of solid-state LED lighting in architectural, residential, and commercial applications. The Mini CT connector is rated for 3 amps per contact, on 24 AWG wire.
With a space-saving low-profile design and rounded corners to minimize shadowing, the connector fits through a hole or notch in the board.
High-temperature materials allow the connector to be reflow soldered, while a flat top surface provides compatibility with vacuum pickup. The connector uses surface-mount hold-downs to provide stability during mating and unmating.
With UL Listing and CSA Certification, the connectors meet the requirements of UL 1977, File No. E2847.
About Tyco Electronics
Tyco Electronics Ltd. is a leading global provider of engineered electronic components, network solutions, undersea telecommunication systems and wireless systems, with 2008 sales of $14.8 billion to customers in more than 150 countries. We design, manufacture and market products for customers in industries from automotive, appliance and aerospace and defense to telecommunications, computers and consumer electronics. With nearly 8,000 engineers and worldwide manufacturing, sales and customer service capabilities, Tyco Electronics' commitment is our customers' advantage.
Contact
Tyco Electronics' Product Information Center Ph: 800-522-6752 or Alexander Hunt III Ph: 717-986-5911
E-mail:ahunt@tycoelectronics.com
Web Site:www.tycoelectronics.com