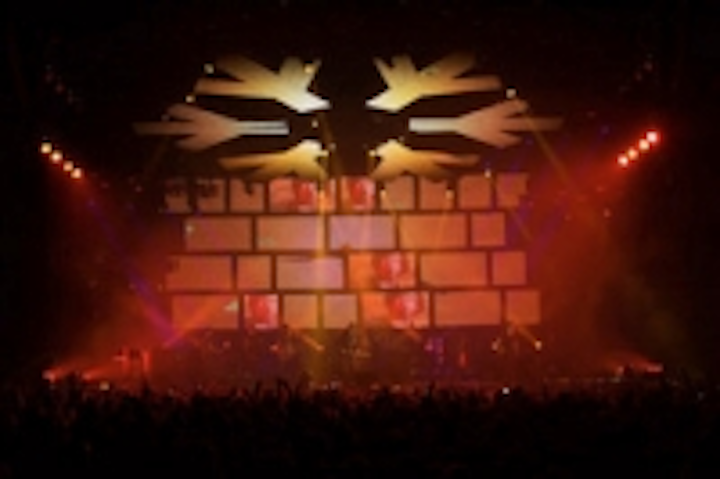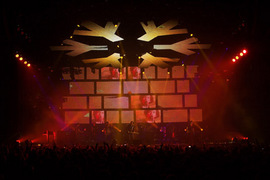 Date Announced: 27 Feb 2012
XL Video is again supplying all video technical production including LED screen, cameras, media servers and control, to Snow Patrol's "Fallen Empires" world tour, the first leg of which kicked off in the UK.
Video director is Blue Leach, and the show's amazing visual design is a tight collaboration of imagination and style created collectively by Leach, lighting designer Davey Sherwin and Catalyst programmer and operator Robin Haddow. The three are dubbed 'The Art Department' on the tour!
XL Video's project managers are Jo Beirne and Phil Mercer ."With Blue, Robin and Davey working together on a project you are guaranteed some spectacular results and a beautiful, thought-provoking, different and intricately constructed show."
Six trussing pods are the architecture centrepiece of the stage visuals. They are all flown on a Kinesys automation system operated by Dave Jolly and move into different positions throughout the show, culminating in a giant snowflake - the band's logo - at the end of the set.
The undersides of the Pods are all clad with Barco FLX-24 'transformable' LED pixels, for which XL built bespoke PCB mounts that produce a 30 mm pitch surface. This relatively new product provides an extremely dynamic series of off-beat video surfaces that can work in multiple configurations giving a deconstructed jagged look, and also providing the total contrast of coming together in perfect geometric symmetry.
The Pods involved much co-operation between XL's team and the tour's lighting contractors HSL. Both their technical requirements had to be incorporated into the design, which also had to be tourable and practical for fitting into a variety of different sized venues.
The Pods are constructed to split apart, stack, and fit into custom designed dollies for transit and quick and easy deployment / de-rigging in the venue. They are looked after by the two set carpenters Ash Groom and Martin Barraclough. A fibre system is used to connect the Barco DX700 processors running each pod back to the racks side stage.
Upstage is a 60 ft wide by 30 ft deep hang of Element Labs Stealth transparent screen, which has a gauze hung in front and a grey cyc at the back, so with lighting applied to the different surfaces, it can be completely 'disappeared' for the numbers where no content is playing on it.
The screen surfaces are all fed with a mix of IMAG and playback footage, all of which is output, mapped and managed for the screens via the Catalyst media server operated by Robin Haddow via a Hog PC console.
The content was commissioned by the band and their management from two different production sources – Knife Edge and Atticus Finch– some of it follows song narratives and other footage is more abstract and dreamy.
It was left to Leach, Haddow and Sherwin to decide on the live treatment for each of the clips and how they actually appear onscreen .. and there is never a dull or repeated moment. By the end of the show you feel that they could double the length of the set and still have more than enough headroom to come up with an original video look and feel for each song.
Leach mixes from the FOH position using a pair of Ableton Novation Launchpad MIDI controllers. It's the complete antithesis of a standard vision mixing set up backstage, and really suits his hands-on, organic mixing style, where video is run 'live', often in chases and scenes, and bumped in and out, or coloured and effected to match / contrast with lighting cues.
Apart from that, working in the same FOH space as Sherwin and Haddow also helps the fluid three-way combination, intuition and teamwork of the evolving 'visual experience'.
He has a total of 15 cameras at his disposal.
Three are manned – a Sony D50 at FOH with a long lens and another hand-held that moves between the pit and the stage, plus a Toshiba TU48 Polecam.
Then there is a four way Sony Robo-cam system onstage – all in non-conventional positions. The first is under the drum riser which has a section cut out that's covered in scratch-proof Perspex to give idiosyncratic shots of the knees, elbows and the internal workings of the drum kit – areas normally hidden from view. The second is in the roof onstage, another is on the bass rig and the last one is on stage left in front of guitarist Nathan Connolly's rig.
In addition to these are a number of bullet cameras dotted all around, one of which is on lead singer Gary Lightbody's mic, so he appears to be 'wearing' it each time he touches the mic, and there is another on the goose neck clamp of his mic stand to capture its vibrations and movement.
Leach attached a GoPro Sports Cam to Connolly's and bassist Paul Wilson's guitars during one sound-check, and the output is played back 'as live' during the show.
He also uses his iPad running the Fluid Monkey App to activate certain effects including one where Haddow has keyed out all the whites in a piece of footage, which are replaced with camera footage from the left hand Launchpad. Some Catalyst effects are also activated via a Wii controller adding even more to the touchy-feely analogue modus operandi.
Current 'work in progress' for the show includes footage taken from a remote controlled car along with a never ending stream of other ideas that will be unfolded over coming months as part of the visual Big Picture.
All the camera inputs go straight into the Catalyst via HD SDI and are mapped to screens from there. The media server is running a special version of software written for the tour allowing them to run up to 20 inputs.
XL Video's crew chief is Roger Nelson, the chief LED technician is Icarus Wilson-Wright, Rob Wick is looking after cameras and operating the Polecam during the show, Al Bollard is also on LED duty and the semi-legendary Myway …… is engineering.
Snow Patrol is expected to tour for much of 2012.
Contact
Louise Stickland +44 (0)1865 202679 +44 (0)7831 329888
E-mail:louise@loosplat.com
Web Site:www.xlvideo.tv