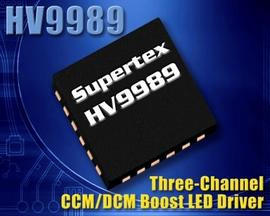 Date Announced: 07 Feb 2012
Sunnyvale, CA – Supertex, Inc. (Nasdaq GS: SUPX) today introduced HV9989, a three channel, boost LED driver integrated circuit (IC) designed to drive LEDs in LCD backlighting applications. It features Supertex's patented PWM dimming control algorithm that individually regulates each channel's output current down to sub-microsecond dimming pulses, which permits dimming at frequencies outside the audible range (>20kHz) without any shift in the "white point" or the color-correlated temperature. It drives strings of either RGB LEDS or multiple strings of white LEDs.
HV9989 drives boost or SEPIC converters in either continuous-conduction mode (CCM) or discontinuous-conduction mode (DCM). It features independent short- and open-circuit protection for each channel and three 1MHz transconductance amplifiers with tri-state outputs to close feedback loops and accurately control the LED current. It is powered by a built-in 40V linear regulator.
"HV9989 can operate with very high dimming frequency and deliver an over 10,000:1 dimming ratio because of its patented PWM dimming method," states Stephen Lin, Vice President of Marketing at Supertex. "The IC combines excellent line and load regulation in a multi-channel driver IC to reduce board space and system cost in LCD backlighting applications like flat screen TVs and monitors."
The HV9989 is available in a 40-lead QFN package (HV9989K6-G). Samples are available from stock. Lead-time for production quantities is 4-6 weeks ARO. Pricing is US$3.78 for the HV9989K6-G in 1K quantities.
About Supertex
Supertex, Inc. is a publicly held mixed signal semiconductor manufacturer, focused in high voltage analog and mixed signal products for use in the medical, LED lighting, printer and display, industrial and telecommunication industries. Supertex product, corporate and financial information is readily available at www.supertex.com.
Contact
Ken Vickers Manager, Marketing Communications 408/222-4810
E-mail:kennethv@supertex.com
Web Site:www.supertex.com